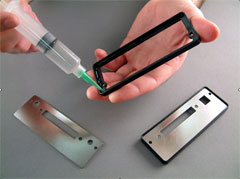 Master Bond manufactures a number of form-in-place and cure-in-place gaskets that adhere to glass, plastics, ceramics and metals. These formed-in-place gaskets will seal complex assemblies, prevent leakage and protect against damage from vibration, shock and impact.
Advantages of UV Curing Adhesives for Form-in-Place Gasket Applications
UV curable adhesives provide a number of advantages over traditional RTV silicones used to produce form-in-place gaskets, including:
Faster cure times
Better chemical resistance
No emission of corrosive elements
Elimination of stacking and racking
Properties of Master Bond's UV Curable Cure-in-Place Gaskets
Master Bond custom formulates products to meet individual design specifications. Specific grades offer:
Electrical insulation
Chemical & water resistance
Low shrinkage
Serviceability at extreme temperatures
Self leveling properties
Master Bond's Most Popular UV Form-in-Place Adhesive/Sealant/Coating
Highly flexible UV curable urethane elastomer compound. Used for high performance seals, gaskets, bonding and protective coating applications. Fast curing at room temperature. Superior chemical resistance. Shore A hardness 45-55. Elongation over 260%.