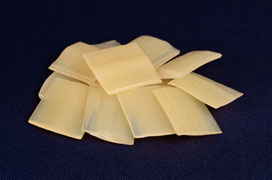 Master Bond hot melt systems feature excellent adhesion to various difficult to bond substrates including polyethylene and polypropylene. They are based on various polyolefin compounds, polyamides, acrylics and urethane materials.
Application of Hot Melt Systems
Hot melts are easy to apply because they require simple change of state from a solid to a molten liquid and then back to a solid
Easy to reseparate by reheating to permit easy repair
No need for surface pretreatment when bonding polyolefins
Properties of Hot Melt Bonds
Master Bond offers a range of specifically designed hot melt systems. Their key features include:
Fast curing
Good bond strength
Impact resistance
Chemical resistance
Most Popular Hot Melt Adhesive
FDA food contact grade, polyolefin based, hot melt adhesive is particularly suited for use on untreated surfaces of polyethylene, polypropylene and combinations of these substrates. High bond performance over the temperature range of -20°F to 190°F (-29°C to 88°C). 100% solid. Contains no solvents.