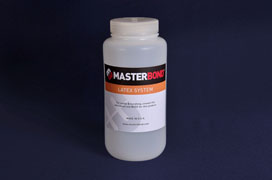 Master Bond's specially formulated water based latex systems contain as much as 70% solids by weight. These latex systems cure readily upon evaporation of water and more quickly when exposed to heat.
Advantages of Master Bond Latex Systems
Master Bond's high performance latex systems offer:
No mixing solutions
Solvent free formulations
Easy application
Most Popular Latex Products
Pressure sensitive high performance acrylic co-polymer emulsion. Dries with excellent clarity, complies with FDA Regulations concerning Food Packaging Adhesives/FDA Status 21 CFR 175.105 and 21 CFR 175.125.