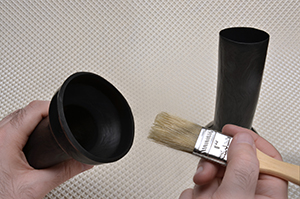 Master Bond manufactures a line of adhesion promoter primers for use with its adhesives on difficult to bond substrates. These include a primer specially formulated for polyolefin surfaces such as polyethylene and polypropylene. These primers are intended for use in conjunction with adhesives such as epoxies, urethanes and silicones and will promote adhesion to acrylics, ABS, polycarbonates, PPOs, polysulfones, polyesters, styrenics and rigid PVCs.
Most Popular Master Bond Primer Compounds
X18

Single component adhesive/primer for polyolefins. Cures at ambient temperatures. Very low viscosity. Easy to apply. Sets up in 30-45 minutes. Superb electrical insulator. Clear to light amber color. Serviceable from -60°F to +200°F.