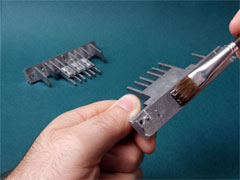 From automotive to electronics to construction equipment to communications, Master Bond has developed cost effective solutions for sealing macroporosity and microporosity for metals and other materials. These low viscosity systems cure at elevated temperatures to a tough, strong chemical resistant thermoset plastic.
Advantages of Master Bond Impregnation Resins
Master Bond impregnation compounds feature long-term storage stability, exceptional chemical resistance and the ability to withstand elevated temperatures. Additionally, they are:
100% reactive
Easy to process
Non-hydroscopic
Fast curing at +250°F
Find out more about epoxy systems for impregnation.
Most Popular Epoxy for Impregnation Applications
EP19HT

One component, storage stable epoxy resin system. Viscosity 500-600 cps. Tensile strength over 10,000 psi. Excellent chemical resistance. Thermal stability up to +400°F. Superb electrical insulation properties. Withstands 1,000 hours 85°C/85% RH. Serviceable from -60°F to +400°F.

EP19HTLV

Ultra low viscosity, thermally stable high performance system. Tg 125-130°C. Resists water, oils, fuels and most solvents. Superior adhesion to metal and ceramics. "Unlimited" working life at room temperature. Serviceable up to 400°F. Ideal for impregnation of porous surfaces.

EP19HTFL

Toughened, ultra low viscosity no mix formulation. Shore D hardnes >65. Resists impact and thermal cycling. Light amber clear color. Outstanding physical strength properties. Used for sealing/impregnation of porous surfaces. Serviceable from -60°F to +350°F.