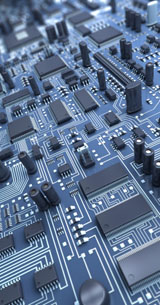 Avoid inadequate adhesive cure, void problems, dot slumping and inconsistent dot size with Master Bond surface mount adhesives. They feature superior "green" strength to hold parts in position until cure commences. Developed for both wave soldering and reflow soldering processes these compounds are easy to dispense and have excellent electrical properties.
Performance Properties of Master Bond's Surface Mount Adhesives
Some of the most important performance properties are:
Thermally conductive/electrically insulative
Electrically conductive
Consistent dot profile
Low ionic impurities
Void filling
Withstand thermal stress
No stringing
Color coded as required
Learn about our silver conductive surface mount adhesives designed to replace solder pastes
Common Applications Featuring Master Bond's Surface Mount Epoxies
Master Bond's one and two component surface mount adhesives are employed in various high tech applications, some of which include:
Chip on board assemblies
Analog devices
X-ray and imaging equipment
Electro-optical sensory devices
Most Popular Surface Mount Epoxies
Supreme 3HTND-1SM

One part, oven curing system (cures at 125-150°C) with rapid curing. Good physical properties. Paste consistency. Recommended for surface mounting. Void filling. Low ioinic impurities. Superior "green" strength. No stringing. Withstands thermal stress. Consistent dot profile. Can be automatically dispensed for high volume applications. Serviceable from -100°F to +350°F.

EP21TDCHT

High strength, high temperature resistant, two part system with excellent bond strength and thermal cycling capabilities. Serviceable from -100°F to +350°F. Meets MIL-STD-883J Section 3.5.2 for thermal stability. Moderate viscosity. Superior toughness. Withstands vibration, impact, shock. Good dimensional stability. Convenient one to one mix ratio. Dependable electrical insulation properties.