The glass transition temperature for a given compound is reported as a single temperature, Tg, which represents the range of temperatures over which a cured epoxy transitions from a glassy, hard state to a more rubbery, softer state.
High glass transition epoxy compounds are of paramount importance to the selection of adhesives/sealants for elevated temperature applications. These products exhibit superior mechanical, thermal and electrical properties than lower Tg materials at high temperatures. Master Bond offers a versatile selection of high Tg materials to meet specific application requirements.
Certifications for High Tg Epoxies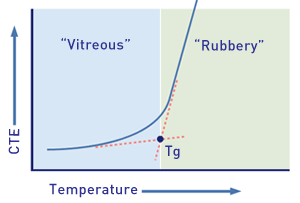 Specific Master Bond one and two part systems meet the following certifications:
USP Class VI for biocompatibility
NASA low outgassing
RoHS
Halogen free
Learn more about the importance of Tg in selecting the right epoxy.
Most Popular Products with High Glass Transition Temperature
UV25

Multi-purpose, one part UV curing system for bonding, sealing, coating and encapsulation. Excellent optical clarity, superb physical properties, moderate viscosity. Ultra high glass transition temperature (Tg) over 180°C. Fast fixture times. Rapid curing. Serviceable from -60°F to +500°F.

EP17HT

Serviceable up to 600°F. Exceptional Tg of 220-225°C. No mix formulation. Low exotherm upon curing. Exemplary chemical resistance. Can be used in encapsulations and castings beyond 1/2 inch thickness.

EP65HT-1

Two part, fast setting (3-5 minutes in 10-20 gram masses) room temperature curing epoxy. Serviceable from -60°F to +400°F. Tg of 125-130C. NASA low outgassing approved. Used by Boeing in various MRO applications. High tensile modulus. Excellent dimensional stability. Withstands 1,000 hours 85°C/85%RH. Can be applied with gun dispenser.

Supreme 10HT

One part structural epoxy with high bond strength and excellent adhesion to similar and dissimilar substrates, especially composite materials. Requires oven curing at 250-300°F. NASA low outgassing approved. Serviceable from 4k to +400°F. Tough and durable. 85°C/85% RH resistance.

EP126TK

Two part toughened epoxy system. Capable of continuous service at 600°F. 100% reactive. Unmatched durability. Outstanding chemical resistance. Robust physical strength profile. Dimensionally stable. Machineable. Withstands rigorous thermal cycling. Service operating temperature range from -80°F to +600°F.

EP62-1

Cures rapidly at moderate elevated temperatures. Superior resistance to moisture. Two part epoxy has long pot life at ambient temperatures. High bond strength properties. Reliable electrical insulator. Serviceable from -60°F to +450°F. Withstands aggressive chemical exposure. Tg 160-165°C. Shore D hardnes >80.

EP132

Two part high temperature resistant epoxy system. Capable of service up to 550°F. 100% reactive. Unmatched durability. Outstanding electrical and physical strength properties. Service operating temperature range from -60°F to +550°F.