Master Bond offers a range of one and two part epoxies with exceptionally high shear strength properties. These compounds can withstand exposure to many chemicals, resist high and low temperatures and have superior gap filling capabilities.
Common Industries for High Shear Strength Epoxy Adhesives
We manufacture an impressive variety of high shear strength systems successfully employed in the following industries:
Aerospace
Medical
Optical
Automotive
Oil/chemical processing
Lap Shear Strength of Bonded Assemblies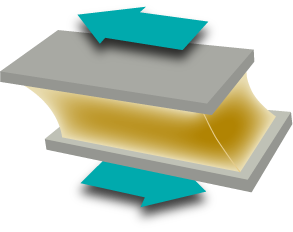 Tests are performed based on ASTM D1002 to measure the single/double lap shear strength of a joint by pulling bonded plastic metal substrates apart along the plane of the adhesive in opposite directions.This assessment plays a vital role in determining the feasibility of use in meeting specific end use structural bonding specifications. Proper surface preparation including degreasing, abrasion, chemical treatments, plasma/corona etching has proven most effective in enhancing wetting characteristics and optimizing lap shear properties. Adherents should be evaluated to simulate actual environmental conditions such as heat, humidity, temperature fluctuations and to eliminate the possibility of adhesive separation from the substrate or cohesive bond failure. Many other variables such as adhesive thickness, curing cycle, viscosity, chemical exposure need to be carefully examined. Uniform stress across the entire bonded area will greatly extend long term durability of mated surfaces. It is important to note that adding fillers can improve shear strength in select formulations. Additionally elevated temperature curing products have higher cross link density resulting in their desirability in advanced applications that require better shear strength properties.
Some of Our Popular High Shear Strength Adhesive Systems
Supreme 10HT

One part structural epoxy with high bond strength and excellent adhesion to similar and dissimilar substrates, especially composite materials. Requires oven curing at 250-300°F. NASA low outgassing approved. Serviceable from 4k to +400°F. Tough and durable. 85°C/85% RH resistance.

EP30HT

High temperature resistant, room temperature curing epoxy system. Exceptional bond strength and dimensional stability. Optically clear. Meets FDA Chapter 1, Section 175.105 requirements. Easy to apply. Serviceable from -60° to +400°F. Protects against exposure to water, oils, fuels, acids, bases and many solvents. Rigid system. Impressive electrical insulation values.

EP31ND

Non-drip structural epoxy adhesive. Paste consistency. Gap filling. Unmatched peel and shear strength. Tough and resilient. Protects against exposure to water, oil, fuels. Cures at room temperature. Service temperature range from -60°F to +250°F.

Supreme 11AOHT-LO

Passes NASA low outgassing tests. Thixotropic paste viscosity. Convenient one to one mix ratio by weight or volume. High thermal conductivity. Excellent electrical insulation properties. Dimensionally stable. Withstands 1,000 hours 85°C/85% RH. Toughened system. Ability to resist rigorous thermal cycling. Service temperature range -112°F to +400°F.

Supreme 12AOHT-LO

One component, heat cure system for bonding, sealing. High strength product. Service operating temperature range from 4K to +500°F (260°C). Resists aggressive thermal cycling and shock. Substantial thermal conductivity of 9-10 BTU in/ft2 hr °F. Smooth thixotropic paste. NASA low outgassing approved. Meets MIL-STD-883J Section 3.5.2 for thermal stability. Withstands 1,000 hours 85°C/85% RH.

Supreme 10AOHT

One part, oven cured epoxy system with excellent thermal conductivity and superb resistance to thermal cycling. Primarily used for bonding of heat sinks and sensors where heat transfer is desirable. Serviceable from 4k to +400°F. Convenient processing.

EP30LP-2

Low viscosity epoxy resin system. Superb optical clarity and light transmission properties. High strength rigid bonds. Service operating temperature range from -60°F to +250°F. Ideal for potting and encapsulation. Excellent dielectric characteristics. Low shrinkage.

Supreme 11AOHTLP

Thermally conductive, electrically insulative epoxy adhesive. High peel and shear strength properties. Non-drip system. Resists -100°F to +400°F. Toughened system. Can withstand rigorous thermal cycling. Convenient one to one mix ratio by weight or volume. Cures at room temperature. Long working life.