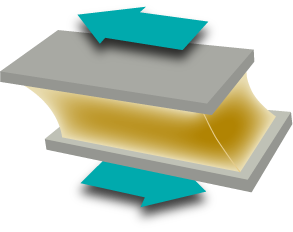 Master Bond offers a range of one and two part epoxies with exceptionally high shear strength properties. These compounds can withstand exposure to many chemicals, resist high and low temperatures and have superior gap filling capabilities. Shear strengths in excess of 10,000 psi have been achieved with fiber reinforced epoxy compounds – truly an amazing accomplishment.
Common Industries for High Shear Strength Epoxy Adhesives
We manufacture an impressive variety of high shear strength systems successfully employed in the following industries:
Aerospace
Medical
Optical
Automotive
Oil/chemical processing
Some of Our Popular High Shear Strength Adhesive Systems
EP31

Ultra high strength, two part epoxy adhesive that bonds well to most metals and plastics. Aluminum to aluminum lap shear strength exceeds 4,000 psi. T-peel strength >50 pli. Ambient temperature curing. Tough and resilient bonds. Combines low viscosity and optical clarity. Serviceable from -60°F to +250°F. Chemical resistant. First class electrical insulator.

Supreme 10HT

One part structural epoxy with high bond strength and excellent adhesion to similar and dissimilar substrates, especially composite materials. Requires oven curing at 250-300°F. NASA low outgassing approved. Serviceable from 4k to +400°F. Tough and durable. 85°C/85% RH resistance.

EP30HT

High temperature resistant, room temperature curing epoxy system. Exceptional bond strength and dimensional stability. Optically clear. Meets FDA Chapter 1, Section 175.105 requirements. Easy to apply. Serviceable from -60° to +400°F. Protects against exposure to water, oils, fuels, acids, bases and many solvents. Rigid system. Impressive electrical insulation values.