Advanced polymer formulations offer outstanding environmental protection/improved performance in LED lamps and luminaire applications. A wide range of systems are available for use including:
Conformal coatings
Die attach adhesives
Optical grade encapsulants
Lens bonding and sealing systems
Thermal interface materials
Specific grades guard light-emitting diode (LED) lighting devices against humidity, UV degradation, high/low temperatures, abrasion, mechanical stresses and chemicals. They also offer high optical clarity and a variety of refractive index values, softness, and thermal cycling reliability.
Typical Applications
Master Bond epoxy, silicone, cyanoacrylate and UV cure systems are employed in commercial, industrial, retail, roadway, municipal and residential LED lighting devices. Common examples are:
Traffic lights
Signs
Stage lighting
Automotive lighting
Displays
Mobile devices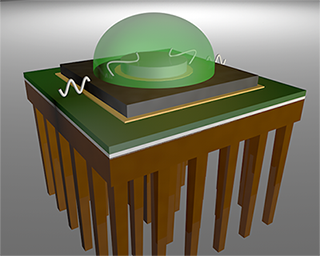 Controlling LED Junction Temperature
Thermal management plays an essential role in LED product design. LED light output is reduced as temperatures rise. Master Bond one and two component epoxy adhesive systems are used for heat sink attachment and offer outstanding heat dissipation and low thermal resistance for high/medium/low power LED's. Low viscosity, thermally conductive/electrically insulative silicone systems protect lamps/luminaires against outdoor weathering such as high salt air concentrations, UV light exposure and absorb noise. Highly flexible, these low stress compositions effectively transfer heat, withstand high temperatures and resist vibration/shock. Electrically and thermally conductive die attach adhesives have high Tg, excellent mechanical properties and low ionic content. They have short cure cycles and provide uniform bond line thickness.
Lamp and Luminaire Assembly
A broad line of polymeric systems is engineered to deliver consistent long-term light output. They also will increase processing speeds and lower expenses. Non-corrosive RTV silicones provide high transparency, excellent toughness, fast tack free time for lens bonding and sealing. Free flowing Master Bond UL 94V-0 approved potting compounds/conformal coatings have outstanding flame retardancy and superior dielectric characteristics. Low viscosity, two component epoxies feature structural bond strength and impact resistance. Single part, no mix UV cure and cyanoacrylate adhesives offer rapid high strength bonds to similar and dissimilar surfaces including polycarbonate, glass, polymethyl methacrylate.