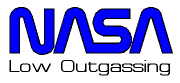 Master Bond has developed a line of specialty adhesives that have passed NASA low outgassing specifications and exceed the ASTM E595 test requirements. These products are successfully employed in applications ranging from disk drives and flat panel displays to advanced avionics and aerospace components.
Master Bond's low outgassing compounds demonstrate outstanding performance and select grades are serviceable over the exceptionally wide temperature range of 4K to +200°C. They are designed to prevent contamination that can reduce device functionality. Optical products can be clouded/fogged by outgassed chemical compounds. Electronic/semiconductor processing can be sensitive to outgassing materials. Vacuum processing can also be adversely affected by use of non compliant adhesives.
Learn more about our systems meeting NASA Low Outgassing specifications
Performance Properties for Master Bond's Low Outgassing Adhesives
Master Bond's line of high purity low outgassing systems meet stringent performance requirements for challenging applications. Among the most important features are:
Electrical conductivity
Thermal conductivity
High and low temperature resistance
Dimensional stability
Low shrinkage
Optical clarity
Vacuum compatibility
Most Popular Low Outgassing Epoxy and Silicone Systems
EP29LPSP

Two part epoxy system with ultra low viscosity and remarkable cryogenic properties. Withstands rapid drop in temperature and is NASA low outgassing approved. Optically clear. Long working life. Low exotherm. Excellent resistance to acids, bases and many solvents. Outstanding electrical insulative properties. Service operating temperature range from 4K to +275°F.

EP21TCHT-1

Two part, room temperature curable epoxy system with high thermal conductivity. Serviceable from cryogenic temperatures up to +400°F. Electrically isolating. Meets NASA low outgassing specifications. Halogen free. Paste consistency. Formulated to cure at ambient temperatures. Withstands 1,000 hours 85°C/85% RH.

EP37-3FLFAO

Flexible, low viscosity, thermally conductive epoxy. Meets NASA low outgassing specifications. Superb electrical insulator. Good physical strength. Chemical resistant. Long working life. Withstands 1,000 hours 85°C/85% RH. Guards against mechanical shock and vibration. Excellent flowability. Ideal for potting and casting.

EP30-2

Cryogenically serviceable. NASA low outgassing approved. 100% reactive. Excellent light transmission properties. Outstanding dimensional stability. High tensile and compressive strength. Successfully tested for 1,000 hours 85°C/85% RH. Excellent dielectric properties. Serviceable from 4k to +300°F.

EP42HT-2LO

NASA low outgassing approved epoxy for service from -60°F to 450°F. Cures at ambient temperatures. Tensile strength >12,000 psi. Shore D hardness 80-90. Superior dimensional stability. Remarkable chemical resistance. Withstands 1,000 hours 85°C/85% RH. Castable in thicknesses exceeding 2-3 inches. Vacuum compatible.

UV10TKLO-2

Optically clear, easy to apply UV curable system. Meets NASA low outgassing specifications. Superior electrical insulative properties. High physical strength properties and superior chemical resistance. Vacuum compatible. Serviceable from -60°F to +400°F

MasterSil 971-LO

Meets ASTM E595 specifications for low outgassing. Optically clear, two part system with one to one mix ratio by weight. Serviceable from -120°F to +400°F. First class electrical insulator.

Supreme 10HTS

Silver filled system with excellent electrical conductivity and high physical strength properties. One part, heat cured (250-300°F) epoxy. Wide range of serviceability from cryogenic temperatures up to +400°F. Meets NASA low outgassing specifications. Can be applied without sagging or dripping, even on vertical surfaces. Volume resistivit <0.006 ohm-cm. Thermally conductive. Shore D hardnes >75.

EP29LPAOHT

Two component epoxy system featuring good thermal conductivity along with being electrically isolating. It is a low to moderate viscosity system with excellent flow properties. It can be mixed in masses over a gallon because it generates an exceptionally low exotherm. High modulus, outstanding compressive strength, and a low coefficient of thermal expansion. The service temperature range is -60°F to +350°F.

EP40TC

Flexible, moderate viscosity bonding, potting, sealing, encapsulation compound. High shear/peel strength. Easy processing, high elongation, vacuum compatible. Serviceable from -100°F to +300°F.
Pages