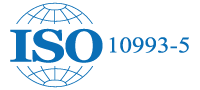 Medical grade adhesives, sealants, coatings and potting/encapsulation compounds need to be non-toxic and show compatibility with blood and body fluids. Additionally, they must be biologically inert. U.S. Pharmacopeia (USP) Class VI and ISO 10993 are two standard tests used to determine their suitability.
ISO 10993-5 tests were conducted by a well known independent testing lab and confirm the products listed below are in full compliance with this standard. Specifically, they are considered non-cytotoxic and meet the requirements of the Elution Test, ISO 10993-5 guidelines.
These test results should only be used as a guideline and do not guarantee FDA approval. It is the user's responsibility to ensure FDA approval for each specific application. It is strongly recommended that further investigation should be conducted to confirm the Master Bond results.
ISO 10993-5 Certified Products