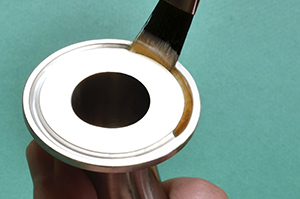 Master Bond features an extensive line of heat resistant adhesives, sealants, coatings and potting/encapsulation compounds that can withstand temperatures as severe as 600°F and higher. Our epoxy systems are presently employed on satellites, downhole oil equipment, medical devices, automotive components, lasers and other equipment applications.
High Temperature Resistant Compounds
Our heat resistant product line includes one and two component:
Epoxies
Silicones
Urethanes
Performance Properties for High Temperature Resistant Adhesives
As with all products in the Master Bond family, specific grades vary in viscosity, cure speed, chemical resistance and electrical properties, but can be customized to meet your application needs.
Learn more about special grades of high temperature resistant adhesives.
Some of Our Most Popular High Temperature Resistant Systems
UV25

Multi-purpose, one part UV curing system for bonding, sealing, coating and encapsulation. Excellent optical clarity, superb physical properties, moderate viscosity. Ultra high glass transition temperature (Tg) over 180°C. Fast fixture times. Rapid curing. Serviceable from -60°F to +500°F.

FLM36

B-staged film adhesive/sealant. Outstanding thermal cycling capabilities and structural properties. Offers superior toughness and flexibility. Excellent strength retention at elevated temperatures. Thermally conductive/electrically insulative. Provides uniform bond line thickness. Serviceable from -100°F to +500°F. Preforms are available.

EP21TDCHT

High strength, high temperature resistant, two part system with excellent bond strength and thermal cycling capabilities. Serviceable from -100°F to +350°F. Moderate viscsosity. Superior toughness. Withstands vibration, impact, shock. Good dimensional stability. Convenient one to one mix ratio. Dependable electrical insulation properties.

EP36AO

Thermally conductive, electrically insulative B-stage toughened epoxy. One part system. Ideal for potting and encapsulation. Capable of withstanding rigorous thermal shocks. Serviceable from -100°F to +500°F. Available in 30 gram cookies. Meets NASA low outgassing specifications.

EP17HT-LO

One part, no mix epoxy meets NASA low outgassing specifications. Serviceable up to 650°F. Tg is 225°C. High shear, tensile and compressive strength properties. Cures in 90-120 minutes at 300F. Withstands 1000 hours 85°C/85% RH.

Supreme 10HT

One part structural epoxy with high bond strength and excellent adhesion to similar and dissimilar substrates, especially composite materials. Requires oven curing at 250-300°F. NASA low outgassing approved. Serviceable from 4k to +400°F. Tough and durable. 85°C/85% RH resistance.

Supreme 45HTQ

Two component, toughened, quartz filled epoxy with exceptional abrasion resistance. Heat curing system. Long working life after mixing. High compressive strength. Superb dimensional stability. Serviceable from -60°F to +450°F. Withstands exposure to petrochemicals acids, bases, solvents. Good strength retention at elevated temperatures. Successfully tested for 1,000 at 85°C/85% RH.