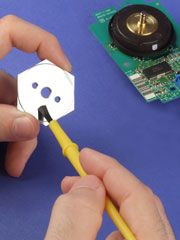 Hard, rigid curing adhesives, sealants and coatings offer high physical strength properties. They are commonly employed in many structural bonding applications. These systems cure at room temperature, upon exposure to heat or exposure to UV light.
Key Benefits of Master Bond's Rigid Curing Compounds
Master Bond's rigid curing compounds are designed to offer outstanding performance in harsh environments. Advantages of this type of system includes:
High tensile and tensile shear strength
Wear resistance
Dimensional stability
Exceptional compressive strength
High glass transition temperature (Tg)
Superior chemical resistant properties
Products exhibit Shore D hardness ranging from 70-90. One and two component epoxy formulations are solvent free and are available for use in low, medium and high viscosities. They have excellent bond strength to a wide variety of substrates including metals, glass, ceramics. Select grades contain specific fillers such as quartz, silicon carbide, alumina, or nickel to boost rigidity. These compounds are also noted for providing enhanced erosion/corrosion protection, resistance to wear/abrasion and low shrinkage upon cure. Heat curing these systems will increase cross linking density which will improve their rigidity and processing speed.
Rigid light curing products cure on demand for precise alignment between substrates requiring exact positioning. They feature good wetting properties and high optical clarity. UV curable hardcoats guard clear plastic substrates such as polycarbonates, polymethylmethacrylates from scratching, common chemicals, staining. They are employed on automotive headlights, touchscreen displays and safety glasses. Nanosilica filled UV curing and dual UV/heat cure products have been developed for advanced performance requirements. It is important to note that dual cure products will cure effectively in "shadowed out" areas with moderate heat exposure. They have successfully passed NASA low outgassing specifications and can cure in thicknesses of a few microns to about 1/8 inch.
Most Popular Rigid Curing Adhesive Systems
EP30QF

Quartz filled epoxy system. Features high tensile modulus, outstanding compressive strength and superior dimensional stability. Good flow properties. Suitable for potting/encapsulation. Reliable electrical insulator. Low CTE. Service temperature range from -60°F to +250°F. Excellent chemical resistance. Meets NASA low outgassing specifications. Withstands 1,000 hours at 85°C/85% RH.

EP30-2

Cryogenically serviceable. NASA low outgassing approved. 100% reactive. Excellent light transmission properties. Outstanding dimensional stability. High tensile and compressive strength. Successfully tested for 1,000 hours 85°C/85% RH. Excellent dielectric properties. Serviceable from 4k to +300°F.

EP21TCHT-1

Two part, room temperature curable epoxy system with high thermal conductivity. Serviceable from cryogenic temperatures up to +400°F. Electrically isolating. Meets NASA low outgassing specifications. Halogen free. Paste consistency. Formulated to cure at ambient temperatures. Withstands 1,000 hours 85°C/85% RH.

EP21SC-1

High performance, abrasion resistant epoxy system. Silicon carbide filled compound. Convenient one to one mix ratio. Resists thermal cycling and many chemicals. Exceptional bond strength. Low coefficient of thermal expansion. Excellent electrical insulation properties. Paste consistency. Serviceable from -60°F to 250°F.

UV22DC80-1

Dual cure system with UV and heat curing mechanisms. Cures at 80°C in shadowed out areas. Nano filled, high dimensional stability and abrasion resistance. Bonds well to metals, glass, ceramics and most plastics. Serviceable from -60°F to +350°F.

Supreme 10HTN

High peel and shear strength single component nickel filled epoxy adhesive. Non-drip system. Low volume resistivity. Excellent durability. Easy to dispense. Resists from 4k to +400°F.