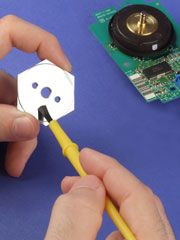 Hard, rigid curing adhesives, sealants and coatings offer high physical strength properties. They are commonly employed in many structural bonding applications. These systems cure at room temperature, upon exposure to heat or exposure to UV light.
Key Benefits of Master Bond's Rigid Curing Compounds
Master Bond's rigid curing compounds are designed to offer outstanding performance in harsh environments. Advantages of this type of system includes:
High tensile and tensile shear strength
Wear resistance
Dimensional stability
Exceptional compressive strength
High glass transition temperature (Tg)
Superior chemical resistant properties
Most Popular Rigid Curing Adhesive Systems
EP30

Low viscosity two part high performance epoxy resin system. High strength rigid bonds. Low linear shrinkage after cure. Superb optical clarity and light transmission properties. Serviceable from -60°F to +250°F. Cures readily at room temperature. Withstands 1,000 hours 85°C/85% RH.

EP30QF

Quartz filled epoxy system. Features high tensile modulus, outstanding compressive strength and superior dimensional stability. Good flow properties. Suitable for potting/encapsulation. Reliable electrical insulator. Low CTE. Service temperature range from -60°F to +250°F. Excellent chemical resistance. Meets NASA low outgassing specifications. Withstands 1,000 hours at 85°C/85% RH.

EP30-2

Cryogenically serviceable. NASA low outgassing approved. 100% reactive. Excellent light transmission properties. Outstanding dimensional stability. High tensile and compressive strength. Successfully tested for 1,000 hours 85°C/85% RH. Excellent dielectric properties. Serviceable from 4k to +300°F.

UV15

Low viscosity, rigid UV curable system with superb thermal stability. Also capable of spin coating. Outstanding optical clarity. High bond strength. Serviceable from -80°F to +350°F.