Master Bond offers an extensive line of epoxies and UV curing systems for use in fiber optics devices. These products provide superior bonding strength and excellent optical clarity. Master Bond's adhesives contain no potentially objectionable contaminants and exhibit excellent resistance to corrosion and adverse environmental conditions.
Applications of Master Bond's Fiber Optics Adhesive Systems
Master Bond fiber optics compounds are used as adhesives, sealants and coatings in different fiber optics devices. Common applications include:
Sealing fibers into ferrules
Bonding optical fibers into connectors
Potting fiber bundles
Bonding fiber optic bundles into ferrules
Splices and field repairs
V-groove array assemblies
Learn about fiber optic terminations for singlemode and multimode connectors
Advantages and Important Adhesive Selection Criteria for Fiber Optic Systems
Long pot life
High glass transition temperature
NASA low outgassing approved
Low shrinkage
Superior optical transmission
1,000 hours of exposure to 85°C/85% humidity
Dual Cure (UV/heat curable) systems
Environmentally friendly, solvent free systems
Memberships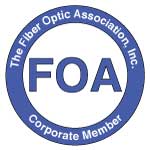 Master Bond is a member of the Fiber Optic Association.
Most Popular Adhesives for the Fiber Optics Industry
Optically clear epoxy. Designed for high performance fiber optic bonding, coating, potting and encapsulation applications. Exceptionally low viscosity and high spectral transmittance. Rigid cures. Exhibits superior dimensional stability. Exceptional low linear shrinkage after cure. Outstanding electrical insulation properties. Service operating temperature range from -60°F to +250°F.

EP30-4

Rapid room temperature curing two component epoxy system. Low viscosity. Optically clear and non-yellowing. Superior chemical resistance. Superb electrical insulation properties. Cures quickly even in thin sections. High bond strength. Two to one mix ratio by weight. Low shrinkage. Shore D hardnes >80. Serviceable from -60°F to +250°F.

UV10

One component, no mix, UV curable adhesive. High strength bonds and superior chemical resistance properties. Low viscosity. Excellent dimensional stability. Fast curing. Serviceable from -60°F to +300°F.

EP29LPHE

Low viscosity epoxy for large potting/encapsulation applications. Low modulus, high elongation. Long working life. Exceptionally low shrinkage upon cure. Impressive optical clarity. Low exotherm. Serviceable from -60°F to +250°F.

EP5LTE-100

One component flowable epoxy for bonding and sealing applications. Unlimited working life. Low coefficient of thermal expansion. Non conductive.

UV10TK40

One component, high viscosity UV curable system. Outstanding optical clarity. Tg 140°C. Enhanced chemical resistance. Superb physical strength properties. Reliable electrical insulator. Withstands 1,000 hours 85°C/85% RH. Serviceable from -60°F to +450°F.