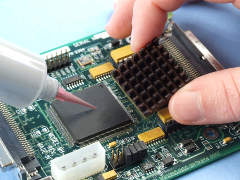 Master Bond offers a wide variety of epoxies, silicones, polyurethanes, polysulfides and UV curable formulations designed to withstand thermal cycling. These compounds are also ideal for the bonding, sealing, coating and potting/encapsulating of substrates exhibiting different coefficients of thermal expansion and contraction. Durable and tough, these products exhibit outstanding performance in high and low temperature environments.
Applications Featuring Thermal Cycling Resistant Polymer Systems
Some common applications using Master Bond's thermal cycling epoxies and silicones include:
Sealing heat exchanger tubes and endplates
Encapsulation of heat generating devices and modules
Bonding metal and fiber reinforced composites in aerospace production
Packaging of stress sensitive semiconductor devices
Most Popular Thermal Cycling Resistant Compounds
EP17HT

Serviceable up to 650°F. Exceptional Tg of 220-225°C. No mix formulation. Low exotherm upon curing. Exemplary chemical resistance. Can be used in encapsulations and castings beyond 1/2 inch thickness.

EP21TDCSFL

SIlver filled electrically conductive epoxy adhesive. Low volume resistivity. Highly flexible. Excellent peel and shear strength. Low linear shrinkage upon cure. Good flow properties. Cures at room temperature. Resists vibration, impact, thermal cycling. Serviceable from 4K to +250°F.

Supreme 11AOHT

Thermally conductive, electrically insulative epoxy adhesive. High peel and shear strength properties. Non-drip system. Resists -100°F to +400°F. Toughened system. Can withstand rigorous thermal cycling. Convenient one to one mix ratio by weight or volume. Cures at room temperature.

Supreme 10HTFL

Highly flexible, no mix adhesive. Offers outstanding peel strength. 100% reactive. Superior water and chemical resistance. Successfully tested for 1,000 hours 85°C/85% RH. Withstands rigorous thermal cycling. Serviceable from 4k to +350°F.

MasterSil 151

Optically clear, addition curing potting, encapsulation, sealing compound. Low shrinkage upon cure. Resists up to +400°F [+204°C]. Shore A hardness 50-60. Highly resistant to water. Long pot life.