Today, manufacturers not only have to focus on performance property requirements when considering bonding, sealing, coating and encapsulating applications, but they may also face certain product design challenges. For example, in applications where color matching is important to create an aesthetically pleasing final product or part, Master Bond can custom formulate compounds in a wide variety of color options. The challenge is to add color pigmentation without compromising any crucial performance properties such as viscosity, resistance to chemicals, electrical insulative properties, strength profile, and more.
Key benefits of Master Bond custom colored adhesive systems include:
No change in performance properties
Reproducible batch to batch consistency
Improved aesthetics
Product differentiation
Easy, efficient application
Color Options for Adhesive Systems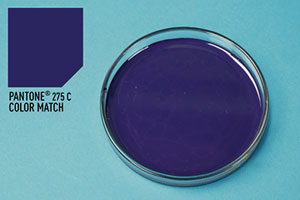 Master Bond epoxy systems are formulated in a variety of standard colors, including black, red, green, blue, gray etc. Many optically clear grades are also available. Upon request, compounds can be manufactured in custom colors in order to meet specific requirements. This task requires blending multiple RoHS compliant pigments in precise proportions to ensure no color variation and uniform appearance. Mixing is performed meticulously in a controlled environment to guarantee consistent, repeatable results for high/low volume order quantities. Certain colors can be affected by heat, moisture, chemicals and UV light or a combination of these factors. Accelerated testing is recommended to evaluate color stability over time.
Certifications for Colored Adhesives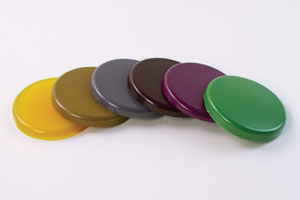 One of our most popular biocompatible adhesives, EP42HT-2Med which is amber in color, was requested by a manufacturer of endoscopes in the color black. We adapted the original product accordingly and developed a new product that is now also one of our most widely used medical grade adhesives, EP42HT-2Med Black. Both formulations successfully passed rigorous USP Class VI test. These two component epoxy systems withstands repeated autoclaving and are serviceable from -60°F to +450°F.
Master Bond colored adhesives can be formulated to meet other industrial certifications such as NASA low outgassing, ISO 10993-5 for cytotoxicity, and more. Compliance testing is performed by independent testing laboratories.
Light Curing Adhesives in a Variety of Colors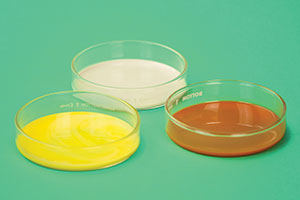 UV and LED light curing adhesives are primarily optically clear formulations. Master Bond recently developed new formulations of opaque colored compounds, which represents a major breakthrough in UV/visible light curing adhesive technology. These unique innovative environmentally friendly products possess the capability of curing in a wide range of colors while offering the same combination of beneficial properties exhibited by transparent curing systems. They require no mixing, cure in seconds upon exposure to an appropriate commercial UV/visible light source; have excellent adhesive strength, thermal stability, chemical/moisture resistance and electrical insulative properties.
LED401 White is opaque white in color which adds a special dimension to light initiated curing systems, since nearly all are either transparent or tinted with dyes. It is a one part system that cures fully upon exposure to a 405 nm wavelength light source. It features high bond strength with superior adhesion to surface treated metals, glass and many plastics.
Master Bond Popular Products
EP42HT-2Med

Low viscosity, two part epoxy with outstanding chemical resistance. Passes USP Class VI biocompatibility tests. Capable of withstanding repeated sterilization cycles including radiation, EtO, chemical sterilants, autoclaving. Serviceable from -60°F to +450°F. Cures at room or elevated temperatures. Available in amber-clear and black colors. Castable in thicknesses up to 2-3 inches.

EP42HT-2Med Black

USP Class VI approved. Serviceable from -60°F to 450°F. Withstands multiple cycles of medical sterilization including radiation, EtO, autoclaving and chemical sterilants. Shore D hardnes >75. Used for bonding, sealing, coating, casting. Can be cured up to 2-3 inches thick. Cures at ambient temperature or more quickly at elevated temperatures.

LED401 White

High viscosity, one component system in white. Excellent dimensional stability, electrical insulation properties and good chemical resistance upon cure. Serviceable from -60°F to +250°F.

UV18S

UV curable system with superior resistance to chemicals, particularly solvents. High bond strength. Excellent light transmission properties. Electrical insulator. Low shrinkage upon cure. Exceptionally fast curing. Serviceable from -60°F to 250°F.

EP21LP Gray

Room temperature curing two component epoxy adhesive, sealant, coating, encapsulant. Varying mix ratio can adjust hardness of cure. Superior electrical insulation properties. Superb dimensional stability. Chemical resistant. Serviceable from -60°F to +250°F. Gray color.