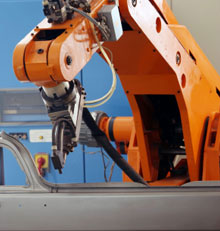 Master Bond offers a wide variety of adhesive systems with the ability to cure in a few seconds to several minutes. These fast cure formulations are available in both one and two component systems and are widely used by manufacturers seeking maximum efficiency and greater productivity. The one part systems require no mixing and cure upon exposure to heat, UV light or moisture. Two part systems cure at ambient/room temperature or at slightly elevated temperatures.
Types of Fast Curing Polymer Systems
Our fast cure product line offers a wide selection of:
Epoxies
Polyurethanes
Silicones
Instant curing cyanoacrylates
UV cure systems
LED cure systems
Distinct Quick Curing Epoxies
Stainless steel filled two component epoxy system SteelMaster 43HT rebuilds, restores and reseals worn or damaged metallic components. It is readily machinable after cure and offers excellent resistance to corrosion. Silver filled, electrically conductive EP77M-F has an exceptionally low volume resistivity of 10-3 ohm cm. It is a smooth paste and contains no solvents. EP77M-F offers high bond strength, chemical resistance and durability.
Some of Our Most Popular Fast Curing Adhesives, Sealants and Coatings
EP65HT-1

Two part, fast setting (3-5 minutes in 10-20 gram masses) room temperature curing epoxy. Serviceable from -60°F to +400°F. Tg of 125-130C. NASA low outgassing approved. High tensile modulus. Excellent dimensional stability. Withstands 1,000 hours 85°C/85%RH. Can be applied with gun dispenser.

EP51

"5" minute type system. Fast setting. Rapid curing at ambient temperature. Serviceable from 4K to +250°F. Adhesive/sealant. High strength bonds. Good chemical resistance. One to one mix ratio weight or volume.

MB297

Higher viscosity (2,200-2,400 cps) and a slightly longer open time than low viscosity counterparts. High strength, rapid curing ethyl cyanoacrylate system. No heating or mixing needed. Good resistance to cleaning agents. Serviceable from -60°F to +250°F.

UV10TK40

One component, high viscosity UV curable system. Outstanding optical clarity. Tg 140°C. Enhanced chemical resistance. Superb physical strength properties. Reliable electrical insulator. Withstands 1,000 hours 85°C/85% RH. Serviceable from -60°F to +450°F.

EP17HT-3

One part snap cure epoxy. Cures in 2-3 minutes at 250-300°F. Service operating temperature range -60°F to +400°F. Ideal for bonding dissimilar substrates and applications subject to thermal cycling. Outstanding electrical insulation properties. Withstands 1000 hours at 85°C/85%RH.