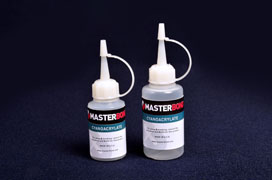 Cyanoacrylates are single component, solvent free adhesives that cure readily upon exposure to moisture at room temperature. They do not require any mixing or heat and only need contact pressure to obtain durable high performance bonds. Primers are also available to further enhance cure speed and adhesion to certain hard to bond plastics.
Key Benefits
Easy to use
Rapid cure speed
Fast fixturing time
Excellent bond strength to rubbers, metals, most plastics and other substrates
Optically clear
Electrically insulative
Important Performance Properties of Cyanoacrylate Adhesives
We make specific grades of cyanoacrylate systems with outstanding performance properties. Specific formulations offer resistance to chemicals, aging and fatigue.
Learn more about Master Bond's instant curing medical cyanoacrylate adhesives.
Most Popular Cyanoacrylate Systems
MB297

Higher viscosity (2,200-2,400 cps) and a slightly longer open time than low viscosity counterparts. High strength, rapid curing ethyl cyanoacrylate system. No heating or mixing needed. Good resistance to cleaning agents. Serviceable from -60°F to +250°F.

MB306

Low viscosity methyl cyanoacrylate with superior bonding properties especially to metals. Contact pressure usually sufficient for fixturing. Viscosity 75-95 cps. Shore D hardness 70. Fast curing. Serviceable from -60°F to +250°F.