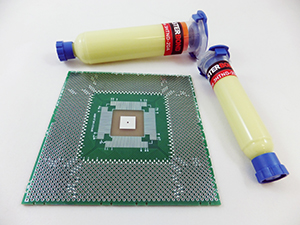 Master Bond's advanced die attach adhesives are increasingly accepted for demanding microelectronic semiconductor packaging as well as for chip on board assemblies. They offer outstanding bond strength for adhering components directly onto printed circuitry. These systems are presently employed in the assembly of many critical electrical devices used in commercial, military, space and medical applications.
Types of Die Attach Epoxies
Master Bond die attach adhesives are available in one component heat curing formulations and premixed and frozen compositions. Fast curing, two component systems are also obtainable for special uses. For certain optoelectronic requirements unique UV curable compounds are employed as they offer unmatched curing speeds and higher productivity.
Outstanding Physical Properties of Die Attach Adhesives
Our high performance die attach compounds have many advantages, including:
Excellent resistance to thermal cycling
Mechanical shock and vibration resistant
100% reactive; they do not contain any volatiles
Dimensional stability
Low ionic impurities
Adhesion to mismatched coefficients of thermal expansion
Adjustable volume resistivity
Die Attach Compounds Come in Convenient Packaging
These high performance epoxies can be readily dispensed by syringes and other conventional devices as well as by specialized printing technologies.
Some of Our Most Popular Die Attach Materials
Supreme 3HTND-2DA

One component, fast curing die attach adhesive. Excellent die shear strength. Serviceable from -100°F to +400°F. Low ionics. Superior thermal conductivity and electrical insulation properties. Dispenses smoothly without tailing or bleed out. Cures in 5-10 minutes at 150°C. NASA low outgassing approved. Available in syringes. Well suited for automatic dispensing. Performed well in 85°C/85% RH testing.

Supreme 10HTS

Silver filled system with excellent electrical conductivity and high physical strength properties. One part, heat cured (250-300°F) epoxy. Wide range of serviceability from cryogenic temperatures up to +400°F. Meets NASA low outgassing specifications. Can be applied without sagging or dripping, even on vertical surfaces. Volume resistivit <0.006 ohm-cm. Thermally conductive. Shore D hardnes >75.

EP65HT-1

Two part, fast setting (3-5 minutes in 10-20 gram masses) room temperature curing epoxy. Serviceable from -60°F to +400°F. Tg of 125-130C. NASA low outgassing approved. High tensile modulus. Excellent dimensional stability. Withstands 1,000 hours 85°C/85%RH. Can be applied with gun dispenser.

EP21TCHT-1

Two part, room temperature curable epoxy system with high thermal conductivity. Serviceable from cryogenic temperatures up to +400°F. Electrically isolating. Meets NASA low outgassing specifications. Halogen free. Paste consistency. Formulated to cure at ambient temperatures. Withstands 1,000 hours 85°C/85% RH.