Specially formulated Master Bond epoxy adhesives, sealants and coatings are designed to provide exceptional protection against alcohol exposure. These solvent-free compounds exhibit high bond strength, feature easy application and provide reliable cost effective solutions for many critical requirements.
Master Bond High Performance Alcohol Resistant Epoxy Systems
Grades are available that feature resistance to selected alcohols such as:
Ethanol
Methanol
Isopropyl alcohol
Butanol
Applications of Master Bond Alcohol Resistant Adhesives
Master Bond's alcohol resistant solutions serve a variety of functions in automotive, scientific, utility and chemical processing applications. These compounds are commonly applied as adhesives and sealants for chemical piping and as coatings and liners for chemical storage tanks.
Chemical Resistance Data for Master Bond Formulations
The graph below shows the weight change of EP41S-5 as a % versus time (number of weeks) when immersed in ethanol: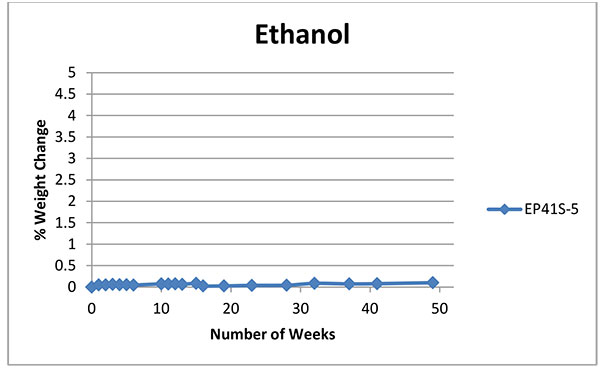 Master Bond's database of chemical immersion tests extends up to 10 years
Most Popular Alcohol Resistant Polymer Systems
EP62-1

Cures rapidly at moderate elevated temperatures. Superior resistance to moisture. Two part epoxy has long pot life at ambient temperatures. High bond strength properties. Reliable electrical insulator. Serviceable from -60°F to +450°F. Withstands aggressive chemical exposure. Tg 160-165°C. Shore D hardnes >80.

EP41S-1

Easily processable, two part epoxy with excellent chemical resistance, particularly to solvents. Available in black. 100% reactive. Low viscosity. Ambient temperature cure. Service temperature range from -60°F to +300°F.

UV18Med

USP Class VI approved system. Outstanding chemical and water resistance. Excellent electrical insulation properties. Superior optical clarity. Rapid curing. Fast fixture times. Moderate viscosity. Ideal for high production applications. Serviceable from -60°F to 250°F.