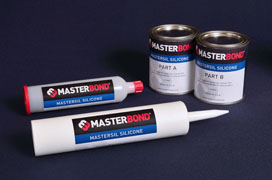 Silicones are elastomeric systems that feature a unique combination of flexibility and high temperature resistance. One part systems require no mixing and cure by moisture in the air. Two part systems are cured by a polymerization reaction that occurs when a curing agent is added. Generally, two part systems can cure in thicker sections than one part systems.
Learn more:
Applications of MasterSil® Silicones
MasterSil® one and two component silicone systems are used as adhesives, sealants, coatings and potting compounds. They are employed in the electronic, automotive, optical, medical, appliance and power industries. Our cutting edge products meet specific requirements for many diverse application needs.
Silicone Adhesives Meeting Industrial Certifications
Learn about our silicone systems meeting NASA Low Outgassing specifications
Learn about one and two component medical silicone adhesives meeting USP Class VI specifications