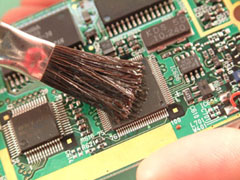 Master Bond offers unique adhesive systems for temporary bonding that can be easily removed without surface contamination. These outstanding systems have gained wide acceptance and are presently employed in the electronic, electrical, optical and metalworking industries.
Applications Featuring Master Bond Reworkable Adhesives
Master Bond's highly regarded reworkable systems are used throughout a variety of industries. Some common applications utilizing our reworkable adhesive materials include:
Bonding of substrates exhibiting differing CTEs
Underfill encapsulants in the electronic packaging areas
Ceramic substrate attachments inside hermetically sealed packages
Wafer bonding and wafer thinning
Bonding of integrated, rigid and flexible circuits
Most Popular Reworkable Adhesive Systems
EP30DP

Two part, room temperature curing, lower viscosity system used primarily for potting and encapsulation applications. Excellent thermal cycling properties along with shock and vibration resistance. Low exotherm and long working life. Superb abrasion resistance and electrical insulation characteristics. Repairable. Serviceable from 4K to +250°F.

MasterSil 151

Optically clear, addition curing potting, encapsulation, sealing compound. Low shrinkage upon cure. Resists up to +400°F [+204°C]. Shore A hardness 50-60. Highly resistant to water. Long pot life.

MasterSil 705TC

Thermally conductive and electrically isolating. Easy to use silicone for high performance bonding, sealing and coating. Non-corrosive and room temperature curable. Ideally suited for applications requiring flexibility and high temperature resistance.

MB600

Environmentally safe, water soluble, one part system. Thermal stability up to +1,500°F. Outstanding strength, dimensional stability and electrical insulation properties. Completely odorless, non-toxic and non-flammable. Cures obtained at moderately elevated temperatures.

UV14-3

One component, tough, flexible UV curable adhesive, sealant, coating. Fast curing. Readily removable by solvents for reworkability. Capable of withstanding rigorous thermal cycling. Serviceable from -60°F to +250°F.