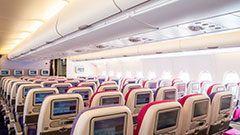 Durable Master Bond high performance fire resistant adhesives, void fillers are engineered to meet safety, weight management, strength/stiffness, acoustic, aesthetic, maintainability, assembly, cost requirements of aircraft manufacturing corporations. Select compounds pass both vertical and horizontal burn tests under FAR 14 CFR 25.853(a) used for determining fire, smoke, toxicity (FST) compatibility of cabin/cargo compartment components inside aircraft. These non-halogenated formulations are ROHS compliant and do not contain any SAVC's as per REACH standards. Employed for bonding interior panels, lavatory modules, overhead storage bins, floors, doors, galleys these products assure reliable construction of efficient, comfortable, appealing, lightweight aircraft interiors.
Performance Properties of Adhesives for Aircraft Applications
Room/low temperature curing systems cure smoothly, in uniform thicknesses providing a good fit even in tight clearances. They have excellent adhesion to multiple substrates including metals, thermoplastics, composites. Special grades allow additional handling time for proper positioning of wide panels. Insert potting and bracket bonding compositions reduce production costs. Compact manual/pneumatic cartridge dispensers are available to ensure accurate mixing, consistent shot control, minimize waste and to increase assembly speed.
While meeting rigorous interior safety requirements are imperative, it is also important for design engineers to consider temperature/environmental compatibility, style/decor, passenger amenities/furnishings, reduced exterior generated sound, cleanability and color degradation. Adhesive systems must withstand abuse from bumping, pulling, pushing, scuffing, scratching, tearing, fungus, water absorption/wicking, cleaning fluids. Mated surfaces can also be exposed to dust, dirt, mud, passenger foot traffic, trolley loads of food/beverages, staining from red wines, cosmetics, cigarette smoke, catsup, soda. Additionally these products bond well to dissimilar lightweight materials such as polyphenylsulfone, polyethersulfone, glass fiber/carbon fiber composites, polycarbonate, polyetherimide and help improve aircraft fuel efficiency.
Some of Our Most Popular Adhesives for Aircraft Interior Applications
EP90FR-V

Two part epoxy system that passes the vertical burn test portion of the FAR standard 14 CFR 25.853(a) for flame retardancy. Passes Boeing standard BSS 7238, Revision C for low smoke and BSS 7239, Revision A for toxicity. Bonds well to a variety of substrates including metals, composites, glass, ceramic and many plastics. One to one mix ratio by weight. Moderate viscosity. Service operating temperature range from -60°F to +250°F. Excellent electrical insulator. Non-halogenated system.

EP21LV

Epoxy adhesive, sealant, coating resists acids, alkalis and many solvents. Low viscosity room temperature curing. Contains no solvents. Serviceable from -60°F to +300°F. Castable to thicknesses exceeding 2-3 inches. Excellent electrical insulator.

FLM36

B-staged film adhesive/sealant. Outstanding thermal cycling capabilities and structural properties. Offers superior toughness and flexibility. Excellent strength retention at elevated temperatures. Thermally conductive/electrically insulative. Provides uniform bond line thickness. Serviceable from -100°F to +500°F. Preforms are available.