Superior tensile strength adhesives from Master Bond are employed in many critical bonding applications. These compounds feature high reliability and dependability even upon exposure to hostile environmental conditions. Designed for easy application, both single and two component products are available for use.
Special Features of High Tensile Strength Adhesives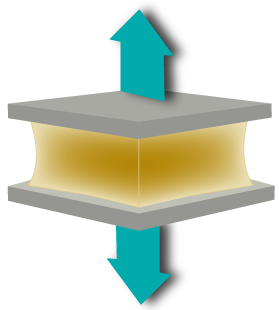 Specific grades offer:
Snap cures
High Tg
Optical clarity
Thermal and electrical conductivity
Low outgassing properties
USP Class VI certification
Special Formulations for ASTM C633 Testing
ASTM C633 is a test to determine adhesion or cohesion strength of thermal spray coatings. This test requires an adhesive with exceptionally high tensile strength, and Master Bond offers two products for use in such applications. EP15, a liquid version of the epoxy, is preferable when dealing with ceramic substrates, while the paste version, called EP15ND-2, is preferable for metallic substrates.
Most Popular High Tensile Strength Adhesives
EP15

No mix compound has exceptional tensile strength properties. Superior dimensional stability. Used for testing the adhesion and/or cohesive strength of flame sprayed coating per ASTM C633. Low shrinkage upon cure. Viscosity 40,000-65,000 cps. Serviceable from -60°F to +250°F.

EP30-2

Cryogenically serviceable. NASA low outgassing approved. 100% reactive. Excellent light transmission properties. Outstanding dimensional stability. High tensile and compressive strength. Successfully tested for 1,000 hours 85°C/85% RH. Excellent dielectric properties. Serviceable from 4k to +300°F.

EP30-3

Heat curable, optically clear epoxy. Serviceable from -80°F to 450°F. Excellent dimensional stability. T >325°F. Shore D hardnes >75. Outstanding dielectric strength. First rate chemical resistance. Low viscosity. Long working life. Easy to apply.

EP34CA

Resists -80°F to +500°F. Two component epoxy system. Long open time. Good flow properties. Can cure in section exceeding 1/4 inch thick. Withstands 1,000 hours 85°C/85% RH. Protects against aggressive chemical exposure.

Supreme 11ANHT-2

High temperature resistant epoxy for bonding, coating and sealing. Toughened formulation. Withstands thermal cycling. Excellent heat transfer properties. Small particle size allows for thin bond lines and low thermal resistance. Serviceable from -112°F to +400°F.