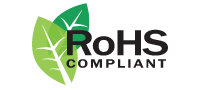 RoHS stands for Restriction of Hazardous Substances. RoHS, also known as Directive 2002/95/EC, originated in the European Union and restricts the use of specific hazardous materials found in electrical and electronic products. RoHS compliance is important, as the restricted materials are hazardous to the environment, and are dangerous in terms of occupational exposure.
The restricted materials mandated under RoHS are:
Lead (Pb)
Mercury (Hg)
Cadmium (Cd)
Hexavalent chromium (CrVI)
Polybrominated biphenyls (PBB)
Polybrominated diphenyl ethers (PBDE)
The following substances were added as part of RoHS 3 EU Directive 2015/863, which was published on March 31, 2015 and will take effect on July 22, 2019:
Bis(2-Ethylhexyl) phthalate (DEHP)
Benzyl butyl phthalate (BBP)
Dibutyl phthalate (DBP)
Diisobutyl phthalate (DIBP)
All Master Bond products are RoHS 3 compliant. Every Technical Data Sheet provides a clear indication on whether this product is RoHS compliant. Additional documentation can be provided upon request. Please contact us if you have any questions on specific products.
Master Bond R&D team is continuously working on new formulations, replacing restricted materials with new, environmentally safe alternatives.