Distinct Master Bond formulations resist continuous, intermittent immersion, spillage, vapor exposure from specific organic and inorganic solvents. These ambient temperature, thermal curing and UV cure epoxy systems are designed for short term (30 days) and long term exposures. Products exhibit excellent bond strength between similar/dissimilar substrates including metals, ceramic, glass, plastic surfaces. Select grades have been developed to withstand heat aging and high stress in various solvent environments for indoor/outdoor usage. These 100% solid Master Bond compounds are available in liquid/paste viscosities and are easy to apply.
Master Bond Solvent Resistant Systems
From processing facilities to production plants to power stations, Master Bond solvent resistant adhesives, sealants and coatings are satisfying the needs of material and design engineers. Manufacturers of automotive, marine, military, agriculture, mining equipment, oil/gas processing components, electronic devices, scientific instruments depend on Master Bond for challenging adhesive bonding applications that require exposure to the following organic and inorganic solvents:
Oxygenated Solvents
Hydrocarbon Solvents
Halogenated Solvents
Inorganic Solvents`
Alcohols
Gasoline
Trichlorethylene
Water
Methyl acetate
Hexane
Carbon tetrachloride
Surfacants
Ketones
Benzene
Hycrochlorofluorocarbon
Detergents
Esters
Toluene
Ethylene Dibromide
Acetone
Xylene
Testing/evaluation should replicate actual usage conditions to confirm suitability of the epoxy adhesive, sealant, coating for your specific application.
Chemical Resistance Data for Master Bond Formulations
The graph below shows the weight change of EP41S-5 as a % versus time (number of weeks) when immersed in acetone: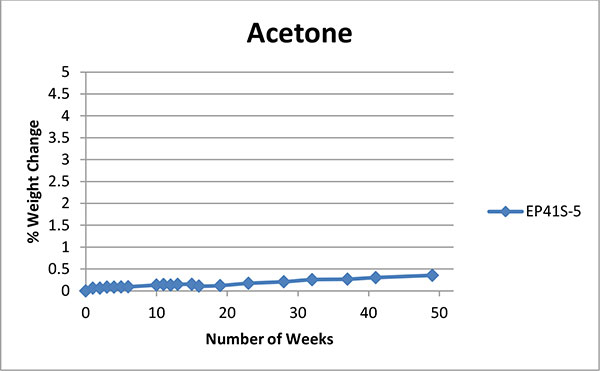 The graph below shows the weight change of UV25 as a % versus time (number of weeks) when immersed in methylene chloride: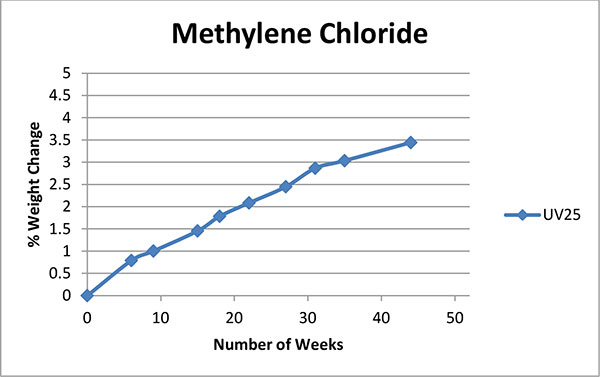 Master Bond's database of chemical immersion tests extends up to 10 years
Most Popular Solvent Resistant Polymer Systems
EP41S-1HT

Two component, ambient temperature curing system with excellent physical properties. Thermally stable. High compressive strength. Features extraordinary resistance to fuels, alcohols and organic solvents. Withstands 1,000 hours 85°C/85% RH. Service temperature range -60°F to +400°F. Moderate viscosity. Good electrical insulator.

EP45HT

High performance adhesive/sealant/coating. Serviceable from -80°F to +500°F. Resists thermal cycling. Outstanding resistance to acids, bases, petrochemicals, water. 100% reactive. Cures at elevated temperatures. Good flow properties. Moderate viscosity. Excellent performance profile for long term exposures at 400°F to 450°F. Well suited for moderate sized electronic potting applications.