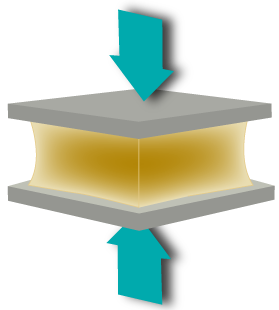 Advanced formulations feature outstanding resistance to compressive forces. Products are designed for service in structural bonding applications. Specific grades offer compressive strengths as high as 15,000-20,000 psi at room temperature.
Key Benefits of Master Bond High Compressive Strength Systems
Corrosion resistance
High/low temperature serviceability
Excellent adhesion to similar and dissimilar substrates
Easy application
Most Popular High Compressive Strength Compounds
Supreme 45HTQ

Two component, toughened, quartz filled epoxy with exceptional abrasion resistance. Heat curing system. Long working life after mixing. High compressive strength. Superb dimensional stability. Serviceable from -60°F to +450°F. Withstands exposure to petrochemicals acids, bases, solvents. Good strength retention at elevated temperatures. Successfully tested for 1,000 at 85°C/85% RH.

EP34

Two component, high temperature resistant epoxy adhesive, sealant, coating. Top notch electrical insulator. Dimensionally stable. Easily machinable. High strength system. Service temperature range from -60°F to +450°F.

EP30QF

Quartz filled epoxy system. Features high tensile modulus, outstanding compressive strength and superior dimensional stability. Good flow properties. Suitable for potting/encapsulation. Reliable electrical insulator. Low CTE. Service temperature range from -60°F to +250°F. Excellent chemical resistance. Meets NASA low outgassing specifications. Withstands 1,000 hours at 85°C/85% RH.