Easy to use and conveniently packaged, Master Bond adhesives, sealants and coatings have been developed to withstand exposure to bases. These high performance compositions offer high physical strength properties, superior electrical insulation characteristics and enhanced reliability. From processing equipment to chemical piping to storage tanks, our compounds are widely employed in the chemical industry and offer consistent dependability.
Epoxy Compounds Offer Superior Protection Against Bases
Grades are available that feature resistance to selected bases such as:
Sodium hydroxide
Potassium hydroxide
Potassium chloride
Chemical Resistance Data for Master Bond Formulations
The graph below shows the weight change of EP42HT-2 as a % versus time (number of weeks) when immersed in different bases: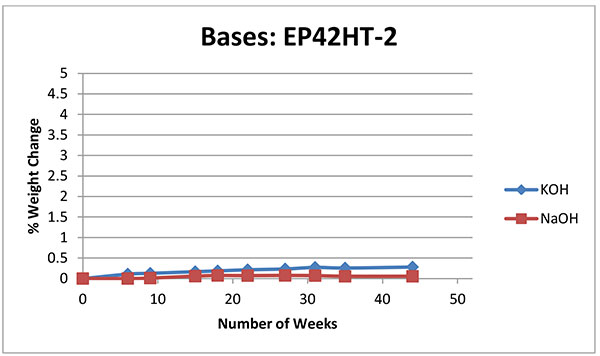 Master Bond's database of chemical immersion tests extends up to 10 years
Most Popular Base Resistant Polymer Systems
EP42HT-2

Bonding, sealing, coating, potting compound. Heat, chemical, steam resistant. Superior optical transmission properties. Solvent free. Withstands exposure to acids, alkalis and many solvents. Castable up to 2-3 inches. Cures readily at ambient temperature. Service temperature range -60°F to +450°F.

EP30-2

Cryogenically serviceable. NASA low outgassing approved. 100% reactive. Excellent light transmission properties. Outstanding dimensional stability. High tensile and compressive strength. Successfully tested for 1,000 hours 85°C/85% RH. Excellent dielectric properties. Serviceable from 4k to +300°F.

EP62-1

Cures rapidly at moderate elevated temperatures. Superior resistance to moisture. Two part epoxy has long pot life at ambient temperatures. High bond strength properties. Reliable electrical insulator. Serviceable from -60°F to +450°F. Withstands aggressive chemical exposure. Tg 160-165°C. Shore D hardnes >80.

EP41S-LO

Certified to meet ASTM E595 for NASA low outgassing specifications. Rapid curing. Excellent chemical resistance to oils, fuels, acids, bases, solvents, chemical sterilants. Service temperature range -60°F to +250°F. Vacuum compatible. Easy to apply. High strength properties.