Two component epoxies feature unique versatility in application and performance. These systems can be custom formulated to offer a wide range of mechanical, thermal, electrical, optical and chemical resistance properties, among others. While mix ratios differ, they all offer the ability to cure at ambient temperatures or faster at elevated temperatures. To obtain optimal properties, a post cure is often recommended.
How Specialty Packaging Options Simplify the Use of Two Part Epoxy Compounds
Master Bond two part epoxy systems are available in a range of convenient packaging options including, gun applicators, premixed and frozen syringes, Semkits®, syringe kits and FlexiPaks®. These options simplify or eliminate mixing while offering a more straightforward application process.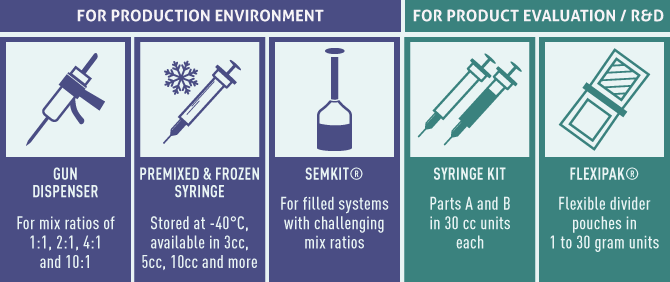 Specific two part epoxy packaging options offer specific advantages, including:
Eliminating the need for weighing and mixing
Simplifying the dispensing and application process
Helping to minimize waste
Maximizing shelf life of the material
Protecting against moisture
Double barrel cartridges are also available for use with a pneumatic gun or for manual application. Ready to use premixed and frozen syringes can be easily stored at -40°F [-40°C] and then thawed – eliminating weighing errors and concerns over air entrapment. Dependable, consistent, high quality packaging procedures meet rigorous standards to ensure top results.
Benefits of Two Component Epoxy Systems
Two part epoxy systems offer the broadest array of attributes, as they can be modified with the addition of fillers to achieve a variety of processing conditions and performance properties. The majority of industrial grade epoxies are two part systems, which are formed through the polymerization of two starting compounds: a resin and a curing agent. The curing process takes place when the reactive constituents of the resin and curing agent combine. As this reaction proceeds, an exotherm develops, enhancing the crosslinking of the two components.
Special Certifications for Two Component Epoxy Adhesives, Sealants, Coatings and Potting Compounds
Master Bond two part epoxies can produce assemblies mechanically equivalent to, or stronger than, those affixed or secured with metal fasteners. They are used in diverse industries such as aerospace, electronic, medical, optical, oil & chemical processing, and OEM. Many formulations have also been tested for, and passed industry certifications, including:
NASA low outgassing
USP Class VI for biocompatibility
FDA CFR 175.300 for food applications
UL94V-0 specification for flame retardancy
Halogen free
Learn more about epoxy systems with long pot life and low exotherm.
Master Bond's Most Popular Two Part Epoxy Systems
EP31

Ultra high strength, two part epoxy adhesive that bonds well to most metals and plastics. Aluminum to aluminum lap shear strength exceeds 4,000 psi. T-peel strength >50 pli. Ambient temperature curing. Tough and resilient bonds. Combines low viscosity and optical clarity. Serviceable from -60°F to +250°F. Chemical resistant. First class electrical insulator.

EP21TDCS

Two component, silver filled electrically conductive epoxy system with a convenient one to one mix ratio and very low volume resistivity. Cures at room temperature. Superior toughness. Serviceable from 4K to +275°F. Withstands rigorous thermal cycling. Successfully tested for 1,000 hours 85°C/85% RH. Exhibits superb thermal conductivity.

EP42HT-2LO

NASA low outgassing approved epoxy for service from -60°F to 450°F. Cures at ambient temperatures. Tensile strength >12,000 psi. Shore D hardness 80-90. Superior dimensional stability. Remarkable chemical resistance. Withstands 1,000 hours 85°C/85% RH. Castable in thicknesses exceeding 2-3 inches. Vacuum compatible.

EP30QF

Quartz filled epoxy system. Features high tensile modulus, outstanding compressive strength and superior dimensional stability. Good flow properties. Suitable for potting/encapsulation. Reliable electrical insulator. Low CTE. Service temperature range from -60°F to +250°F. Excellent chemical resistance. Meets NASA low outgassing specifications. Withstands 1,000 hours at 85°C/85% RH.

Supreme 11HT-LO

Room temperature curing epoxy adhesive has a convenient one to one mix ratio. High shear and peel strength. Toughened. NASA low outgassing approved. Stress cracking fatigue resistant. Serviceable from -100°F to +400°F. Withstands 1,000 hours 85°C/85% RH. Fast setting. Good flow. Easy to apply.

EP62-1ND

Cures rapidly at elevated temperatures. Superior resistance to moisture. Two part epoxy has long pot life at ambient temperatures. High bond strength properties. Reliable electrical insulator. Serviceable from -60°F to +450°F. Shore D hardness 75-85. Thixotropic paste.