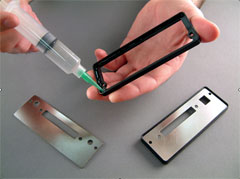 Master Bond custom formulates products to meet individual design specifications. UV curing grades for form-in-place and cure-in-place gaskets replace die-cut gaskets, RTV sealants and tape. They provide electrical insulation and can be consistently/efficiently dispensed to optimize throughput. Specific grades can be adjusted to meet a wide variety of performance properties including chemical & water resistance, low shrinkage, serviceability at extreme temperatures, self leveling properties and more.
Advantages of UV Curing Adhesives for Form-in-Place Gasket Applications
UV curable adhesives provide a number of advantages over traditional RTV silicones used to produce form-in-place gaskets, including:
Faster cure times
Better chemical resistance
No emission of corrosive elements
Elimination of stacking and racking
Master Bond's Most Popular UV Form-in-Place Adhesive, Sealant, Coating
UV21

Highly flexible UV curable urethane elastomer compound. Used for high performance seals, gaskets, bonding and protective coating applications. Fast curing at room temperature. Superior chemical resistance. Shore A hardness 45-55. Elongation over 260%. Viscosity 30,000-38,000 cps. Serviceable from -65°F to 250°F.