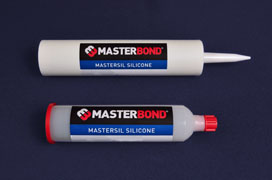 Master Bond produces a large variety of one part, no mix, tin catalyzed RTV silicones. These condensation cured products provide a unique combination of high flexibility and high temperature resistance. Certain grades offer optical transparency and resistance to vibration, shock, heat and corrosion. These products are environmentally friendly, containing no solvents or diluents. They are also incredibly easy to apply.
Special Properties of One Component Silicones
One component silicones exhibit strong adhesion to glass, plastics, metals, rubbers and other substrates. Specific grades offer:
Resistance to humidity and extreme temperatures
High flexibility
Electrical insulation
Thermal conductivity
Electrical conductivity
Optical clarity
Special Certifications for MasterSil® One Part Silicone Compounds
Master Bond line of MasterSil® one part silicone adhesives, sealants and coatings are approved for use in various applications and industries. Additionally, specific grades meet the following certifications:
MIL-A-46146 and MIL-A-46146A Type 1
Learn about our one component silicone systems meeting MIL Specs.
UL94V-0 and UL94V-1 for flame retardance
Learn about our flame retardant one component silicone systems.
USP Class VI and ISO 10993-5 for biocompatibility
Learn about our medical grade one component silicone systems.
Advantages of Using MasterSil® One Part Silicone Adhesives
Master Bond single component silicones will help make any production process simple and efficient. Some advantages to using our compounds include:
Curing without additional curing agent
Curing at ambient temperatures
User friendly applicators
Some Popular MasterSil® One Part Silicone Products
MasterSil 711

Exceptionally fast setting, high performance, non-corrosive silicone rubber. Widely used in manufacturing and repair applications. Has superb flexibility. Servicable from -75°F to +400°F.

MasterSil 773

Ultra low viscosity silicone conformal coating material. Easily applied by spraying, brushing, dipping or flow coating. Superb humidity and heat resistance.

MasterSil 803

Unique non-corrosive neutral curing oxime type silicone featuring enhanced high and low temperature serviceability from -180°F up to +500°F(260°C). Features high bond strength and superior electrical insulation properties. Paste viscosity.

MasterSil 705TC

Thermally conductive and electrically isolating. Easy to use silicone for high performance bonding, sealing and coating. Non-corrosive and room temperature curable. Ideally suited for applications requiring flexibility and high temperature resistance.