Master Bond has developed a wide variety of one and two component high peel strength adhesives for challenging bonding applications. Peel strength can be described as a material's ability to resist forces that can pull or peel it apart at a predetermined angle and rate.
Properties of Master Bond's High Peel Strength Adhesives
High peel strength epoxies provide excellent physical strength properties, toughness and resistance to vibration, impact and shock. Specific grades are also noted for:
Low temperature serviceability
Excellent adhesion to dissimilar substrates
Withstanding exposure to thermal cycling
Thermal and electrical conductivity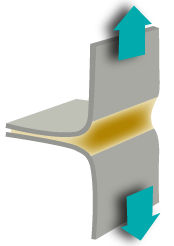 Determining the strength requirements for adhesively bonded T-peel joints is essential in meeting stringent reliability requirements of multiple industrial parts/systems. Our high, medium, low viscosity formulations were developed to offer enhanced bonding solutions for flexible, rigid substrates subjected to peel forces. The performance capability of these compounds is dependent on the types of materials being bonded, adherent thickness, adhesive thickness/width, length of overlap areas, surface preparation of substrates, type and magnitude of load, heat, humidity. In many cases speed and angle of separations need to be evaluated in order to replicate actual service conditions. These products are designed to provide long term durability, chemical resistance, low shrinkage, strength retention after aging and easy, simple dispensing characteristics.
Select Master Bond compositions feature both high peel and shear strength properties. For example two component, room temperature curing epoxy system EP31ND exhibits a tensile lap shear strength of 4,000-4,200 psi and a T-peel strength of >50 pli. In contrast single component no-mix epoxy adhesive Supreme 10HT has a tensile lap shear strength of 3,600-3,800 psi and a T-peel strength of >25-30 pli.
Some Popular High Peel Strength Adhesives, Sealants and Coatings
EP21TDCHT

High strength, high temperature resistant, two part system with excellent bond strength and thermal cycling capabilities. Serviceable from -100°F to +350°F. Meets MIL-STD-883J Section 3.5.2 for thermal stability. Moderate viscosity. Superior toughness. Withstands vibration, impact, shock. Good dimensional stability. Convenient one to one mix ratio. Dependable electrical insulation properties.

Supreme 10HT

One part structural epoxy with high bond strength and excellent adhesion to similar and dissimilar substrates, especially composite materials. Requires oven curing at 250-300°F. NASA low outgassing approved. Serviceable from 4k to +400°F. Tough and durable. 85°C/85% RH resistance.

EP21TDC-4

Two part, room temperature curing epoxy with outstanding flexibility and superb adhesion to many rubbers and metals. Excellent thermal cycling properties. Ability to withstand mechanical shock and vibration. T-peel strength 25-35 pli. Elongatio >200%. Water and chemical resistant. Operating temperature range -100°F to +250°F.

EP31ND

Non-drip structural epoxy adhesive. Paste consistency. Gap filling. Unmatched peel and shear strength. Tough and resilient. Protects against exposure to water, oil, fuels. Cures at room temperature. Service temperature range from -60°F to +250°F.

EP40ND

Excellent adhesion to metals and engineering plastics such as polycarbonates, acrylics. Flexible. For bonding, potting, sealing compound. High shear/peel strength. Resists mechanical shocks and vibration. Moderately low exotherm during cure. Serviceable from -100°F to +250°F. Paste consistency.

EP21TDC-2AN

Flexibilized. Thermally conductive/electrically insulative. Thermal conductivity 22-24 BTU· in/ft2 hr· °

F. Serviceable from 4K to +250°F. Superb impact resistance. Long working life. High peel strength. Elongatio >25%.

EP72M4

Tough, resilient, room temperature curing epoxy adhesive. Resists exposure to vibration, impact and shock. Superior peel and shear strength.
Serviceable from -60°F to +250°F. Convenient one to one mix ratio weight or volume. Good chemical resistance. Superb electrical insulation properties.