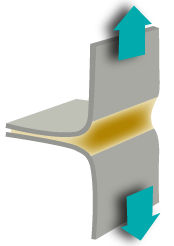 Master Bond has developed a wide variety of one and two component high peel strength adhesives for challenging bonding applications. Peel strength can be described as a material's ability to resist forces that can pull or peel it apart at a predetermined angle and rate.
Properties of Master Bond's High Peel Strength Adhesives
High peel strength epoxies provide excellent physical strength properties, toughness and resistance to vibration, impact and shock. Specific grades are also noted for:
Low temperature serviceability
Excellent adhesion to dissimilar substrates
Withstanding exposure to thermal cycling
Thermal and electrical conductivity
Some Popular High Peel Strength Adhesives, Sealants and Coatings
EP21TDCHT

High strength, high temperature resistant, two part system with excellent bond strength and thermal cycling capabilities. Serviceable from -100°F to +350°F. Moderate viscsosity. Superior toughness. Withstands vibration, impact, shock. Good dimensional stability. Convenient one to one mix ratio. Dependable electrical insulation properties.

Supreme 10HT

One part structural epoxy with high bond strength and excellent adhesion to similar and dissimilar substrates, especially composite materials. Requires oven curing at 250-300°F. NASA low outgassing approved. Serviceable from 4k to +400°F. Tough and durable. 85°C/85% RH resistance.

EP21TDC-4

Two part, room temperature curing epoxy with outstanding flexibility and superb adhesion to many rubbers and metals. Excellent thermal cycling properties. Ability to withstand mechanical shock and vibration. T-peel strength 25-35 pli. Elongatio >200%. Water and chemical resistant. Operating temperature range -100°F to +250°F.