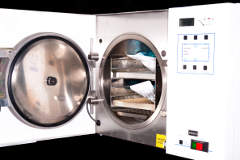 Worldwide manufacturers of disposable and reusable medical devices specify Master Bond sterilization resistant adhesives, sealants, coatings, potting and encapsulation compounds for their most demanding needs. They are USP Class VI certified and designed to adhere well to a wide range of substrates. Select products also meet ISO 10993-5 cytotoxicity requirements. These user friendly products can be cured at ambient temperatures, elevated temperatures or by exposure to UV light.
Adhesives, Sealants and Coatings with Outstanding Sterilization Resistance
Grades are available that resist the following sterilization methods:
Steam autoclave
Ethylene oxide (ETO)
Radiation
Chemical sterilants including hydrogen peroxide, glutaraldehyde, peracetic acid, Cidex® and Sterrad®.
Select products will retain their performance properties even upon exposure to multiple sterilization cycles. These products are formulated for reusable medical devices. In addition, compounds also provide protection against disinfectants, detergents, isopropyl alcohol and bleaches.
Most Popular Sterilization Resistant Polymer Systems
UV18Med

USP Class VI approved system. Outstanding chemical and water resistance. Excellent electrical insulation properties. Superior optical clarity. Rapid curing. Fast fixture times. Moderate viscosity. Ideal for high production applications. Serviceable from -60°F to 250°F.

EP41SMed

Biocompatible. Meets USP Class VI test specification. Impressive resistance to chemical sterilants including ethylene oxide, bleach, glutaraldehyde, hydrogen peroxide based systems and paracetic acid type compounds. High bond strength. Electrical insulator. Fast curing. Quick handling time. Service temperature range -60°F to +250°F.

EP42HT-2Med

Low viscosity, two part epoxy with outstanding chemical resistance. Passes USP Class VI biocompatibility tests. Capable of withstanding repeated sterilization cycles including radiation, EtO, chemical sterilants, autoclaving. Serviceable from -60°F to +450°F. Cures at room or elevated temperatures. Available in amber-clear and black colors. Castable in thicknesses up to 2-3 inches.