The Relevance of Master Bond Adhesives, Sealants and Coatings in Medical Advancements
As we near the end of 2017, our technical team is gearing up to embrace 2018's medical device challenges in full force. In the ever-changing landscape of the healthcare industry, Master Bond's products have never been more relevant. To guarantee best outcomes for our customers, we are taking a proactive look at where our adhesive, sealant and coating technologies can offer assembly and performance advantages as we continue to usher in an exciting era of medical advancements.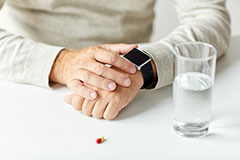 In November 2017, the FDA made a historic move in approving the world's first electronic "smart pill," a sensor inputted into a pill that is activated by stomach acid when ingested, enabling caretakers to track that the pill was taken.1 It is clear that medical care is being tailored to the needs and preferences of patients in numerous ways, and with improved computational power and the advent of information accessible in the palms of our hands, much more is on the horizon. Here's where we are trending on some of the most exciting innovations coming down the pipe.
Robotics
First up—robotics. Industries around us are changing at an unprecedented pace and companies are embracing innovation at a scale never seen before. Across numerous fields robotics are now implicated for cutting costs and numerous programmable motions, especially those that require accuracy and repetition. While relatively new on the block, the medical industry is stepping up to the plate too in building robotics to advance care and operations—including machines to improve bedside assistance, reduce workload for staff in sanitation and disinfection, and automate supply chains and workflow, to name a few.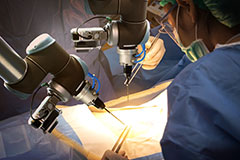 One of the most interesting and complex developmental areas in medical robotics though is in robotic assisted surgery—which is transforming precision and flexibility in surgery and enhancing capabilities of surgeons in operating rooms around the world. While robotic assisted surgery was, believe it or not, already introduced nearly 20 years ago with the much-publicized da Vinci system, with technology rapidly improving all around us, specifically in motors, materials, sensors, software and computer imaging, medical researchers have upped the ante.
Robotics now impact surgical procedures associated with urology, gynecology, oncology and brain and spine surgeries, among other disciplines, and more innovation is yet to come. Rather than act as a replacement for the surgeon, robots serve to augment the surgeon's technical ability and provide additional guidance to improve patient outcomes.2 Other robots provide access to notoriously hard to reach anatomical areas. With an influx of startups and investigators embracing these innovative systems, this fascinating market is expected to double to $6 billion by 2020 .3
The Use of Epoxies in Robotics
To construct these robots, as has been the trend in many industries, manufacturers are shifting from conventional welding and mechanical fastening to adhesive systems which improve overall structural integrity, reduce weight and enhance aesthetics. As new medical materials are constantly developed and incorporated into robots, adhesives have an edge over traditional joining techniques in enabling dissimilar or plastic substrates to be joined conveniently with high, uniform bond strength. In turn, these improvements enable better performance and accuracy for the surgeon and/or end user.
When we think robots, we generally think larger machinery, but companies are also inventing miniaturized robots to aid in accessibility within the body or imaging, or to conduct other minimally invasive medical tasks, like cleaning, drug delivery or diagnostics. 4 Smart catheters and endoscopes are two such tools connected to larger robotic platforms that are being revolutionized to facilitate in technically demanding procedures and to serve as conduits for therapeutics. Master Bond's medical grade epoxies are used for various applications in such devices including encapsulation of specific components, and offer outstanding benefits including coating against moisture and consistent performance after subject to multiple cycles of sterilization.
Advancements in robotics are even influencing next generation prosthetics. As a result of modern warfare, fewer people are dying in war, but an increased number of our veterans are coming home as amputees. For wounded service members and the general public living with physical disabilities and/or parapalegia, prosthetic technology is advancing rapidly. At the cusp are microprocessor controlled prosthetics and/or exoskeletons, which offer a more sophisticated method of control and performance, new quality of life, and more comfort and versatility. Master Bond is working hard in this area to provide adhesive systems, repeatedly for encapsulation, filling and protection purposes, that offer advantages including improved durability and a clean aesthetic with optically clear adhesives and thinner bonds.
Master Bond's adhesives have played an essential role in the medical market for some time. Used in construction of numerous reusable life saving products like robotic systems, as well as in sterile disposable products such as standard catheters, our adhesive systems are USP Class VI approved and tested against the industry's most comprehensive biocompatibility scales.
Thermally Conductive and Electrically Insulative Epoxies in Medical Electronics
One of the hottest areas for our adhesives is also in medical electronics, an area we believe will continue push the envelope in 2018 as well. As wearable technologies and monitors have mounted in popularity, enabling consumers to regulate everything from diet and fitness to sleep and breathing, medical researchers have realized the relevance of these technologies beyond the consumer, fitness-enthusiast realms. A new wave of medical-grade wearables is upon us, and one such application is in home care for the growing aging population. According to the National Institutes of Health, the aging population is growing at an unprecedented rate. In fact, researchers are forecasting that the 65-and-over population in the United States will almost double over the next three decades to 88 million by 2050. Medical device companies are gearing up for this population shift in various ways—developing implantable chips for chronic pain, eye care or breathing trouble, creating sensory devices for managing blood pressure and detecting heart failure, all of which can be monitored via smart phone or a remote. As the baby boomers age, these technologies will not only be cost effective but also lifesaving.
In these devices and smart phones themselves, Master Bond's best thermally conductive and electrically insulating epoxy systems play an integral part. These epoxy systems offer rapid curing and have been specially designed to dissipate heat from heat-sensitive components. As the adoption of electronic systems becomes more widespread in the medical field, we expect new technologies such as artificial intelligence, telemedicine or "distance health", virtual and augmented reality to gain traction in the healthcare space as well. Of its many diverse applications, for example, virtual reality is opening doors in physician training, where students can learn anatomy and conduct sample surgeries through virtual learning labs and projected, realistic 3D images. Master Bond has developed an array of epoxy systems for advanced assembly of electronic components, offering a range of features including excellent conductivity, reliability and moisture protection.
The last up-and-coming area of note in 2018, in which we've already see increased needs for adhesives, is in medical imaging. Our epoxies have been used in imaging products for years, and companies are pushing the boundaries in this space too to improve patient comfort and capture more detailed information. Exciting trends in breast cancer treatment, including 3D mammography and revolutionized ultrasonic machines, are improving detection and providing a new line of sight to disease management. Bonding and coating components of ultrasound parts, introducing epoxy into coils for strength in MRIs, and light curing adhesives that fill gaps and eliminate the risk of stress cracks are all imperative to the success of these machines. Master Bond's team is here to guide researchers investigating new methods in imaging to find the right adhesive for their applications.
As a society we have much to look forward to in 2018 as the medical space continues to transform before us. While it is too early to judge how exactly these devices will come to fruition in the future, these innovations have caught our eye and we are going full speed ahead in ushering in their challenges. We anticipate a year of positive progress in health.
1Press Announcement: FDA approves pill with sensor that digitally tracks if patients have ingested their medication. Federal Drug Administration. 2017 Nov 13. Available: https://www.fda.gov/NewsEvents/Newsroom/PressAnnouncements/ucm584933.htm
2Estey E P. Robotic prostatectomy: The new standard of care or a marketing success? Can Urol Assoc J. 2009 Dec; 3(6): 488–490. Available: https://www.ncbi.nlm.nih.gov/pmc/articles/PMC2792423/
3Surgical Robotics Market by Component (Systems, Accessories, Services) and Surgery Type (Gynecology , Urology, Neurosurgery, Orthopedic, General) - Global Opportunity Analysis and Industry Forecast, 2014 – 2020. Allied Market Research. Available: https://www.alliedmarketresearch.com/surgical-robotics-market
4Microbot Medical (MBOT) Presents At Ladenburg Thalmann 2017 Healthcare Conference – Slideshow. Seeking Alpha. Available: https://seekingalpha.com/article/4109926-microbot-medical-mbot-presents-ladenburg-thalmann-2017-healthcare-conference-slideshow
5News release: World's older population grows dramatically. National Institutes of Health. 2016 March 28. Available: https://www.nih.gov/news-events/news-releases/worlds-older-population-grows-dramatically