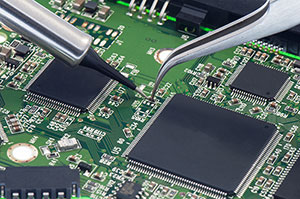 Innovative adhesive systems have played a leading role in bonding/protecting smaller, thinner, lower weight, faster, more powerful, energy efficient consumer/industrial electronic systems. Our cutting edge formulations enable leading manufacturers to effectively dissipate heat, bond substrates with different coefficients of thermal expansion/contraction, electrically interconnect, underfill/encapsulate, conformal coat to ensure reliable long-term performance. These cost effective materials can be precisely dispensed automatically in controlled amounts to increase yields and reduce waste. Output speeds can be engineered to increase throughput while assuring accurate, consistent, high quality processing for compact densely packed circuits.
Master Bond epoxy, silicone and UV curable compounds have been in the forefront in providing solutions to ever evolving challenges as packaging densities rise. Formulations have overcome design/manufacturing obstacles and have replaced mechanical fasteners/thermal assembly joining techniques. Solvent, lead, halogen free products have been successfully employed for mating/sealing different shapes/sizes by automotive, appliance, aerospace, medical device, telecommunication, security, consumer product companies to meet rigorous service requirements while improving functionality. Select grades have long term strength retention properties over high/low temperatures and resist exposure to vibration, impact, shock, abrasion, moisture, chemicals, solvents, UV. Special systems exhibit low shrinkage, low stress and have outstanding dielectric characteristics. Additionally singly component UV curable compounds have optical clarity, cure in seconds, meet ASTM E595 requirements for low outgassing and prevent fogging of lenses/displays. Ultra fast "snap cure" epoxies have potent physical strength for high volume production processes.
Most noteworthy is Master Bond's experience/expertise in facilitating custom formulations to satisfy the multiple processing/performance parameters needed for new user friendly mobile/wearable device designs. In this super competitive marketplace our products have delivered a range of sustainable options for a broad scope of applications such as touch screen interfaces, lens/speaker assembly, component/sensor attachment, metal trim bonding, anti-scratch coating, EMI shielding, edge bonding, sealing, tamper proofing and form-in-place gasketing. Adaptations of miniaturized designs has contributed to advances in packaging/interconnection technology and optimization of material usage for smart phones, e-readers, handheld game consoles, tablets, laptops, fitness trackers, medical alert systems. Durable flowable/non-drip Master Bond systems have improved device ruggedization while addressing the need for controlled bond line thickness, exact alignments and improved aesthetics. Significant progress has been made in enhanced shear/peel strength characteristics and successful testing for 85°C/85%RH for different compounds.