Microvolume Adhesive Dispensing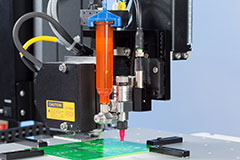 From electrically conductive interconnects to thermal interface materials to surface mounting to glob top coatings to die attachment, fluid dispensing systems are capable of dispensing repeatable, precise, small volumes of adhesives. This is essential as components and devices are designed for miniaturization. Adhesive formulations have been engineered to provide reliability, shortened cure cycles, low stress and unmatched accuracy for microdispensing application requirements. Excessive or insufficient amounts of adhesive applied to a microstructure could be detrimental. Proper material selection is dependent on specific performance and processing specifications including viscosity/rheology, type of cure (heat, UV light, room temperature), etc. and part geometry. Dot arrays can seal/bond critical locations in display, electronic, medical, optical, alternative energy devices.
Lightweight equipment is available that can quickly dispense low or high viscosity compounds in micro volumes and improve productivity in automated assembly operations. Most common techniques are contact dispensing, jet-forming dispensing and dynamic drop dispensing. Master Bond in collaboration with an appropriate microdispensing equipment partner will evaluate the feasibility of employing the proper formulations to match your goals. We will use our expertise and understanding of your requirements to cost effectively meet your technological challenges.
Meter Mix Dispense Systems Shorten Cycle Times
Automatic meter mix dispensing equipment can reduce production costs and enhance quality/reliability in bonding, sealing, coating, potting/encapsulation applications. Two component filled/unfilled compounds such as epoxies, silicones, polyurethanes, polysulfides can be consistently, accurately applied on complex shapes with little wastage. From filling to spraying to dispensing dots, lines, beads this machinery can improve throughput/yields to give manufacturers a competitive edge. Digital controlled user friendly touch screen monitors are engineered to easily adjust dispense time/flow rates even in high volume assembly operations.
Standard/custom automated meter mix dispense systems in variable/fixed ratio configurations offer long service life. They are designed to decrease the chance of part failures/rejects and minimize downtime. This enables manufacturers to lower labor expenses and quicken their return on investment (ROI). Additionally this equipment ensures a cleaner/safer work environment. Abrasive fillers and chemically aggressive formulations can be handled to meet challenging processing requirements.
Master Bond has long standing relationships with leading meter mix dispense suppliers. They are noted for their problem solving capabilities and satisfying customer needs. Master Bond will assist you in selecting a meter mix dispense system most suitable for use with our products.
Jet Dispensing
Commonly employed for die stacking, attaching surface mount parts onto PC boards, IC encapsulation, lens bonding, flip chip underfills, conformal coating, this non-contact type of fluid dispensing method has proven beneficial over traditional contact based techniques. Jet dispensing allows the adhesive to be applied precisely and accurately in tightly controlled spaces even on uneven surfaces in hard to access locations. Adhesives can be applied both vertically and horizontally. Unlike syringe/needle dispensing, contact is unnecessary to produce dots, lines, and the risk of surface contamination is mitigated because there is no touching of the substrate. A variety of viscosities can be applied at high throughput speeds and requires no z-axis motion. Additionally properly installed and maintained jet dispensers have been selected as the system of choice for high volume production runs and for their reliable, consistent, reproducible performance.
Jet dispensing is being used on new designs because of their versatility, ability to save time, money and increase profitability for end users. Their advantageous dispensing characteristics have enabled manufacturers to produce unique products at affordable prices, to improve product functionality and increase sales. As global manufacturers vie for a competitive edge the employment of the most effective, efficient, automated dispensing system can not be underestimated. Jet dispensing has revealed its value and has proven instrumental in solving many challenging problems.
It is recommended that temperature of the adhesive should be controlled to ensure that the viscosity of the compound remains uniform. Nozzles of various shapes and sizes can be used to simplify handling in multiple applications. Jet dispensing yields dot uniformity and produces excellent bonding capability on surfaces. It is important to note that in comparison with other automated dispensing, with jetting, waste is lessened, service downtime is decreased and cleaning is quick. Also drop size/rate can be easily set and bubbles/turbulence eradicated. Jet dispensing is proficient in generating extremely small dot size and shape lines in corners.
Robotic Dispensing for Adhesives
High precision robotic fluid dispensers replace manual processing to increase throughput speed, improve product quality and lower assembly costs. used by display, automotive, electronic, healthcare, aerospace/defense, telecommunication manufacturing companies these user friendly automated robotic dispensers offer a rapid ROI and are capable of applying high, medium, low viscosity liquid adhesives continuously in lines, dots, patterns. They are often employed for dispensing adhesives simultaneously on multiple parts/components and are easily adaptable to reach confined spaces even in hazardous work environments.
Robotic dispensers minimize waste, ensure accurate repeatable bonding of a wide range of similar/dissimilar substrates at variable speeds including flat/contoured surfaces and require minimal factory floor space. In numerous instances significant material savings have been accomplished. When properly calibrated they optimize yield results, reduce rework/scrap, prevent operator fatigue, enhance workplace safety. Robotic dispensing of both one and two component compounds has effectively streamlined production processes in many high performance applications. Master Bond can recommend leading global manufacturing companies who will provide personal assistance to meet your assembly goals. A wide range of options are available from corporations in which Master Bond has a a long standing working relationship.This includes bench top models to robotic dispensing with touch screen controls to volumetric dispensing systems to meter mix dispensing equipment.