At Master Bond, we make decisions everyday that consider the impact of our products on the environment and our society. Thousands of companies depend on us to produce safe and efficient products for their assembly lines and end users.
Our sustainability strategy strives to strike a balance between the environment, people and profitability. It is a driver of the way we conduct business on a daily basis and is an essential part of Master Bond's long-term growth. This sentiment of managing operations responsibly and ethically has been part of Master Bond's character from its founding and even more so now that the need for sustainable products is more prevalent than ever before. Here's a snapshot of what we're doing:
Our approach
We contribute to our customers' competitiveness with quality products.
The success of our company is intertwined with the success of our customers. As a leader in the adhesives industry for over 40 years, Master Bond and its team of chemists create products of the highest quality and work directly with our partners to create custom solutions that are long-lasting and dependable. Higher quality extends lifespan, which means less frequent waste and repairs, and better long-term value.
As we work to meet our customers' needs with reliable solutions, we also provide the means for our partners to embrace waste and cost reduction practices within their processes, achieving a direct 'green' benefit as well. Products last longer so there are fewer raw materials used, lower overall consumption, improved cost-savings and better prospects for the environment.
We challenge how our industry partners work and collaborate to develop sustainable solutions.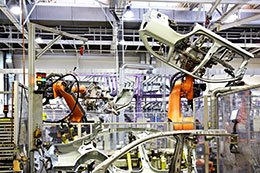 Other industries followed suit as companies realized that the performance properties of adhesives enable energy-savings not only in business processes, but for the end user as well. In the automotive industry for example, adhesives have replaced other forms of fastening, such as the use of mechanical fasteners on vehicles, to make vehicles lighter and improve fuel-efficiency. According to the Office of Energy Efficiency and Renewable Energy, a 10% reduction in vehicle weight can result in a 6-8% fuel economy improvement.1
We adhere to the highest compliance standards and uphold integrity in our practices.
We are dedicated to formulating products that pass strict testing requirements and conform to industry standards and best practices. For more information on our compliance testing and certifications, please refer to our Compliance Overview. Compliance is an absolute top priority within our company as we strive to not only meet, but exceed industry expectations.
Environmental responsibility
We enable a reduction in carbon emissions.
Solvents and airborne products that emanate from standard adhesives can present risks to the environment, which is why regulations have been established to monitor emissions. Most solvents used and emitted by the adhesive manufacturing industry are classified as volatile organic compounds (VOCs). When VOCs react with nitrogen oxides in the air under specific conditions, namely heat and sunlight, they create ground-level ozone and contribute to smog, which pose a serious threat to human health.2
Master Bond has adopted technologies that allow our products to be manufactured 100% solvent free without sacrificing on quality. The lack of solvents in our formulations help avoid safety issues and are simply better for the environment, better for the people who use them and better for the people who make them. Master Bond looks forward to continuing to bring environmentally compatible adhesives that are both safer and more user-friendly to market.
We pioneer environmentally-friendly products.
Years of research and development have enabled our team of chemists to go beyond industry standards and formulate new "green" adhesive systems that are easy to work with, safe to handle and promote efficiency. These include our product line of light curing systems that significantly reduce waste and energy-usage for our customers as they do not require mixing or oven curing. Our polyurethane and polysulfide compounds have also been significantly improved by way of eliminating the use of hazardous materials, such as isocyanate or lead. Master Bond continues to formulate new and innovative systems in an effort to employ more natural and non-toxic materials into our compounds.
We minimize the environmental impact of our own operations on a local level.
Less is more when it comes to the production and manufacturing of our compounds. Environmental-protection is a strong part of our company history as we have been setting green initiatives at our New Jersey headquarters since we began operations. We often evaluate new ways to maintain energy-efficiency, recycling, waste reduction and limited water usage in our factory, as well as alternative packaging options. Although Master Bond is just one small piece of the puzzle, we are proud of our role in contributing to a greener, more efficient workplace using new and advanced technologies.
Social responsibility
We put our people front and center and promote a culture of diversity and respect.
Sustainability is a team effort and our team is our most valuable asset. We encourage the education and welfare of our employees through an array of programs, and always promote their health awareness. Investing in our employees' personal skills, growth and work-life balance is part of our DNA as a company. This strengthens our innovative capacity and makes our employees happier. We are honored to say that our employee retention is at an all-time high.
We also demand an environment of inclusivity and respect. Diversity is an intrinsic part of who we are, and these values shape the way we communicate with customers, work as a team and progress as a company. Our success as a trusted partner for our customers is rooted in great teamwork.
In addition to complying with all required governmental regulations, we go above and beyond to establish a safe workplace by providing hands-on training, inviting external safety auditors to review our processes, requiring protective gear at all times, and keeping to a strict schedule of maintenance of all operating equipment to ensure an accident-free workplace at all times.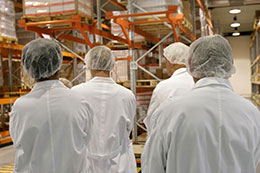 We support community projects in which our employees live and work.
We also strive to support the communities in which we operate. Our technical team works closely with local academic institutions as well as research companies around the world to support scientific research and education that address important medical and environmental challenges. We also equip our partners with the materials to facilitate breakthroughs that are important to both society and our planet, creating profound connections with engineers and companies at the forefront of innovation, whether in space or oceanic exploration, medical transformations, energy, air travel or ground transportation.
As a private employer, Master Bond also donates a portion of its revenue to health, educational, environmental and cultural charities directly ensuring our social impact.
Roadmap for our future
The ubiquitous nature of adhesives makes the sustainability challenge an ongoing one, even more so with the definition and measurement of sustainability in and of itself evolving. One thing that is clear though—sustainability is a global team effort and there remains a lot of work ahead of us. As we continue to cultivate responsible processes however, we hope our relatively smaller-scale contributions will nonetheless begin to have a positive impact on the big picture.
1Lightweight Materials for Cars and Trucks. Office of Energy Efficiency & Renewable Energy. Available: https://www.energy.gov/eere/vehicles/lightweight-materials-cars-and-trucks
2Health Effects of Ozone in the General Population. United States Environmental Protection Agency. Available: https://www.epa.gov/ozone-pollution-and-your-patients-health/health-effects-ozone-general-population#mortality