Among the most challenging medical applications for an epoxy compound are prosthetics and fully implantable medical devices. Not only must the material be capable of withstanding sterilization procedures, it must also exhibit biocompatibility over an extended period of time. Prosthetics and implantable devices must be able to maintain performance levels even when in direct contact with tissue and bodily fluids, and must not introduce toxins or cause injury, a physiological reaction, or immunological rejection.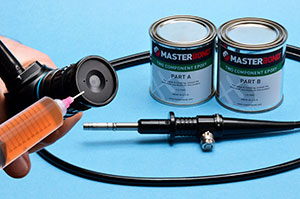 Master Bond EP42HT-2Med is a two-component epoxy that is designed specifically for use in medical applications. Capable of withstanding repeated sterilizations, include ethylene oxide (EtO), radiation, chemical sterilants, and autoclaving, EP42HT-2Med offers superior bonding, sealing, and coating performance, and is castable to thicknesses of up to 2-3 inches. It is highly resistant to many acids, bases, solvents, and fuels, offers excellent electrical insulation properties, and is serviceable from -60°F to 450°F. EP42HT-2Med cures at room temperature or more rapidly at elevated temperatures. Optimal performance and biocompatibility can be achieved by curing EP42HT-2Med overnight at room temperature and then for an additional 2 to 4 hours at 150-200°F.
EP42HT-2Med is commonly used in the manufacture and assembly surgical instruments, catheters, endoscopes, and other medical devices. Available in both amber-clear and black as a USP Class VI system, EP42HT-2Med is well suited for use in prosthetics and implantable medical devices. In several research and development publications, scientists and engineers have singled out EP42HT-2Med for use in their applications. Following are brief descriptions of each application and its use of EP42HT-2Med.
Table 1: Commercial and Research Uses of EP42HT-2Med
Table 2: Patent Grants that Reference EP42HT-2Med
| | | |
| --- | --- | --- |
| Application | EP42HT-2Med Use | Critical Properties |
| Knee prosthesis6 | Attaching elastic gasket between tibial component and bearing component of prosthesis | Biocompatibility |
Conclusion
Prosthetic and fully implantable devices face unique environmental challenges. All materials that come into contact with the patient must not harm the patient, and the device must operate flawlessly while subjected to motion and surrounded by physiological materials. Medical device manufacturers and researchers count on biocompatible Master Bond EP42HT-2Med and EP42HT-2ND2Med Black to assemble and protect medical devices while ensuring patient safety.

Download full case study
Sources
1Baj-Rossi, C., et al. "Biocompatible Packagings for Fully Implantable Multi-Panel Devices for Remote Monitoring of Metabolism," 2015 IEEE Biomedical Circuits and Systems Conference (BioCAS), Atlanta, GA, 2015, pp. 1-4. doi: 10.1109/BioCAS.2015.7348398. Accessed 17 Jan. 2018.
2Baj-Rossi, C., et al. "Full Fabrication and Packaging of an Implantable Multi-Panel Device for Monitoring of Metabolites in Small Animals," IEEE Transactions on Biomedical Circuits and Systems, vol. 8, no. 5, 13 Oct. 2014, pp. 636-647. Atlanta, GA, 2015, pp. 1-4. doi: 10.1109/TBCAS.2014.2359094. Accessed 17 Jan. 2018.
3Baj-Rossi, C., et al. "Fabrication and packaging of a fully implantable biosensor array," 2013 IEEE Biomedical Circuits and Systems Conference (BioCAS), Rotterdam, 2013, pp. 166-169. doi: 10.1109/BioCAS.2013.6679665. Accessed 17 Jan. 2018.
4Ghoreishizadeh, Seyedeh Sara. "Integrated Electronics to Control and Readout Electrochemical Biosensors for Implantable Applications." Dissertation, École Polytechnique Fédérale de Lausanne, 2015.
5 Ravensbergen, Lisanne. "Design of a transradial socket." MS thesis, Eindhoven University of Technology, 2010.
6 Trimmer, Kenneth. "Limited motion tibial bearing." US Patent 8,734,523. 27 May 2014.
7Stewart, Fraser. Cummins, Gerard. Turcanu, Mihnea V. Cox, Benjamin F. Prescott, Alan. Clutton, Eddie. Newton, Ian P. Desmulliez, Marc P.Y. Thanou, M. Mulvana, H. Cochran, Sandy. Näthke, Inke. Universities of Dundee, Strathclyde, Birmingham, Glasgow, Edinburgh, Heriot-Watt, Kings College. United Kingdom. "Ultrasound Mediated Delivery of Quantum Dots from a 2 Capsule Endoscope to the Gastrointestinal Wall." https://www.biorxiv.org/content/10.1101/2020.02.24.963066v1.full.pdf