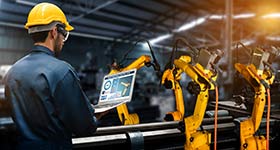 Master Bond adhesive compounds have the ability to play a vital role in producing high quality, dependable, and secure components that are essential in production systems used in smart factories. These products can make important contributions in improving:
Performance in real time
Optimizing throughput speed
Connectivity
Safety
Preventive maintenance
Minimizing waste
Reducing misplaced production capacity
Planning
Control
Sensing
Actuating
Traceability of goods
Sustainability
Profitability
Master Bond adhesive, sealant, and coating formulations can be utilized in the fabrication of vitally important components for industrial smart devices deployed by the following industries:
Life sciences
Power transmission and generation
Telecommunications
Automotive
Specialty equipment
Defense
Aerospace
Chemical
Energy
Examples of potential applications for different smart machines employed in smart manufacturing include:
Cobots/robots
3D printing
5g cellular networks
Motion control
Packaging technology
Motors
Actuators
Measuring instruments
Circuit protection devices
Conveyors
Cameras
Power supplies
Data centers for cloud computing
Safety equipment
Specific one and two part Master Bond products can provide manufacturers of smart equipment and machines advantageous properties such as:
Heat dissipation
Electrical conductivity
Outstanding dielectric strength
Thermal stability
Optical clarity
Dimensional stability
Toughness
Impact and vibration resistance
Void-filling capabilities
High strength bonds
Excellent aging characteristics
Stress relief
Protection against moisture, salt spray, chemicals, and abrasion
These versatile compositions have enabled engineers to create innovative designs to accommodate end-user needs. Incorporating new material at reduced weight has triggered superior performance and opened up new opportunities for smart machinery construction.