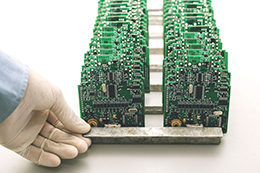 Leading electronic manufacturing services (EMS) companies depend on Master Bond custom adhesive systems for the assembly of electronic products for original equipment manufacturers (OEMs). Application specific formulations are available for low, medium, high volume production operations and are utilized in the following industries:
Wearable electronics
Computer
Communication
Automotive
Aerospace and defense
Healthcare
Commercial equipment
Marine
Lighting
Original equipment manufacturers outsource the construction of electronic hardware to Tier 1 to Tier 3 suppliers. Master Bond has provided technical support to these EMS companies. Our liquid, paste, film bonding agents have contributed to avoiding subsequent reliability issues, ability to bond dissimilar substrates, sealing against liquids/gases, low temperature processing, gap filling capability, vibration damping properties, minimal shrinkage upon cure, protection from corrosion, thermal stability, and chemical inertness. They also feature fatigue resistance, decrease weight, improve aesthetics, can eliminate stress concentration and will maintain their structural integrity over time.
Master Bond's line of materials consists of electrically conductive, thermal conductive and electrically insulative products. Particularly noteworthy are the heat dissipative characteristics of adhesives for smaller, miniaturized, tightly packaged circuits. Silver filled systems have an exceedingly low volume resistivity of 10-3 ohm-cm for electrical interconnection. They also exhibit inimitable thermal conductivity.
Other indispensable Master Bond grades are used for:
Die attachment
Conformal coatings
Glob top encapsulants
Impregnating/insulating coil windings
Surface mounting technology (SMT)
Liquid gap fillers
Underfills
Heat sink attachment
Bundle optical fibers
Biocompatibility
Ferrite cores and magnets
UV/visible light curing
Potting
IC packaging
Rapid fixturing
EMI/RFI shielding
Alignment of lenses, prisms
Moisture sensitive sensors
Static dissipation
Structural bonding
Form-in-place gasketing
Master Bond is continuously developing innovative products to meet the evolving needs of this most competitive global market. Our systems have enabled EMS companies to improve efficiency, quality, sustainability, yields, productivity, time to market and safety. Emerging technologies have given new opportunities to boost growth. Master Bond has kept pace with these challenges by providing the best customer service and trying to exceed customer expectations. From the internet of things (IoT), virtual reality, 3D printing, 5G connectivity, electronic vehicles, Master Bond has been at the forefront of helping EMS companies facilitate an increase in market share and profitability.
Master Bond is playing a pivotal role in supplying polymeric compounds for vital electronic requirements for EMS fabricated products. They include:
Gaming consoles
LCD TVs
Handheld devices
Routers
Servers
Tablet computers
Printers
Precision optical components
Automotive electric parts
Mechanical equipment
Cable modems
Surgical assistive devices
Imaging systems
Robots
Sensing equipment
Flexible PCBs
Industrial control panels
Digital communication products
Medical diagnostic devices
ATMs
Network security equipment
Toys
Automotive infotainment
Small appliances
Auto navigation systems
Smart meters
Automated test equipment
Autonomous guided vehicles
Power switching equipment