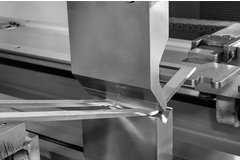 Master Bond one and two component epoxies and urethane modified epoxy hybrids frequently have replaced mechanical fastening, welding in metal fabrication assembly applications. These formulations have been specified by original equipment manufacturers (OEM's) contractors, value-added resellers to meet exact dimensions for heavy equipment, machinery, structures, hand tools employing raw metal materials and are performed by fabrication shops. Low and high volume production runs are completed with popular metal types such as aluminum, iron, magnesium, titanium, brass, copper and different grades of steel. As these firms diversify to adjust to cyclical economic conditions and a demanding customer base such as the energy, auto, aerospace industry use of adhesives offer many benefits. Among the most prominent are increased strength, durability, fatigue resistance, enhanced production speed and lower manufacturing costs. They also offer exceptional adhesion between similar/dissimilar substrates, prevent corrosion, withstand exposure to chemicals, diminish the weight of the final product and are aesthetically pleasing. Flexible compositions absorb stress caused by flexing, vibration, impact and temperature fluctuations.
These structural bonding materials join all shapes, thicknesses, require less skilled labor than mechanical fastening, welding, have excellent dimensional stability and can be dispensed with automatic equipment or manually. They can be applied to parts that are inaccessible to mechanical fastening, welding, provide even stress distribution over the entire bonding area, eliminate protrusion, punctures and improve load bearing capacity. In comparison fasteners, spot welding can create concentration points. Eradicating screw holes, rivets, etc. has enabled utilization of lighter, thinner materials removing apprehension over distortion, splitting, rust, altering designs, discoloration. Additionally with adhesives little post-process cleanup is needed.
Adhesives have proven a viable joining option to mechanical fastening, welding when the surfaces being mated are properly prepared and the most appropriate compound is selected to endure the particular environmental conditions during operation. Special considerations need to be evaluated to address safety concerns, structural integrity of the bonds, possible degradation, longevity questions, quality control and processing requirements such as viscosity, depth of cure, hardness, cure speeds. Custom products are often deployed to satisfy the special needs of each project. Master Bond is constantly compounding new innovative, easy to use systems helping metal fabricators to augment efficiency and bringing novel opportunities to boost business with adhesive bonding.