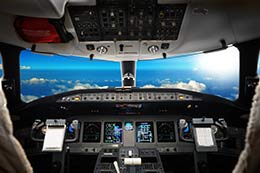 Avionic engineers have a huge responsibility in designing, developing, analyzing, and maintaining/repairing key electronic components/systems employed in:
Commercial aircraft
Business jets
Satellites
Spacecraft
Launch vehicles
Rockets
Missiles
Helicopters
Unmanned aerial vehicles (UAV)
Master Bond produces a broad range of custom adhesives, sealants, coating, potting/encapsulation compounds, thermal management materials, and form-in-place gaskets which have the ability to fulfill the complex needs of avionic manufacturers. Examples of potential applications include systems for:
Navigation
Communication
Payload and mission management

Flight controls
Weather detection
Electronic flight displays
Power and data management
Fuel efficiency
Radar
Collision avoidance
Airborne sensors
Inflight entertainment
Automatic flight
Lighting
Landing gear
Takeoff
Cabin management
Flight recorder
Onboard maintenance
Master Bond offers special grades of epoxies, urethane modified epoxies, polysulfide modified epoxies, silicones, and UV/visible light curing compositions to meet stringent, evolving requirements of the avionic industry. Products are available to help reduce weight, increase functionality, boost durability, protect fragile/sensitive components/circuit boards, and improve safety. They consist of:
Liquid gap fillers
Underfills
Die attach adhesives
Electrically conductive bonding agents
Conformal coatings
Low stress adhesives
Electrically insulative compounds
Glob top encapsulants
Low CTE adhesives
EMI shielding adhesives/coatings
UV form-in-place gasketing materials
Lid sealing materials
Heat sink attachment adhesives
Snap cure adhesives
Unique formulations exhibit resistance to:
Cryogenic conditions
High temperature exposure
Thermal fluctuations
Liquids/gases
Altitude
Corrosion
Shock
Fatigue
Chemical attacks
Moisture
Aging
Abrasives
Vibrations
Special grades meet the following requirements:
Vertical and horizontal burn test specifications per Standard 25.853(a)
UL94 V-1 and UL94 V-O flame retardancy
Low outgassing per ASTM E595 requirements
UL 746A high amp arc ignition resistance and UL94 HB for flame retardancy
Fungus resistance per MIL-STD-810G
Additionally, it is important to note that these polymeric resins are compatible with multiple substrates, have superior mechanical properties, minimal shrinkage upon cure, excellent dimensional stability and are effective gap fillers. Low viscosity compounds have superb wetting properties and are engineered for utilization in tight tolerances. Optically clear and opaque products manifest distinctive characteristics and can provide solutions to overcome many complicated avionic dilemmas. Master Bond products can be packaged in convenient dispensers in large and small volumes.