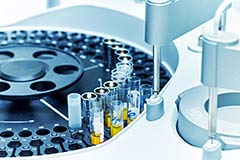 Master Bond's comprehensive line of polymeric compounds can be used in the construction and repair of sedimentation and filtering centrifuges. Specific grades are meticulously formulated, and help ensure consistent, reliable, speedy, and efficient separation of solid particles from a liquid solution. This separation is dependent on the size, shape, and density of the particles, viscosity of the medium, temperature, and velocity of the rotation. A motor provides the power to turn the rotor. The spinning that occurs at a variable or fixed rate creates the relative centrifugal force (RCF) to the contents in the centrifuge chamber.
Durable, versatile, high performance Master Bond adhesive/sealant compositions offer engineers design flexibility. This has enabled manufacturers of both benchtop and floor standing centrifuges to improve energy efficiency, safety, increase productivity, and meet unique customer requirements. Our job proven products can be employed on timers, braking devices, electric motors, touch screen digital displays to motor-drive assemblies, compressors for refrigeration, power switches, tachometers, keyboards, and potentiometers for industrial centrifuges such as:
Decanter centrifuges
Disc stack centrifuges
Hydrocyclones
Tubular bowl centrifuges
Clarifier/Thickener centrifuges
Skimmer pipe/knife discharge centrifuges
Sliding discharge centrifuges
Pendulum centrifuges
Basket centrifuges
Scroll screen centrifuges
Peeler centrifuges
Pusher centrifuges
Select Master Bond one and two component systems feature exceptional thermal conductivity, withstand temperature fluctuations and chemical exposure, possess dimensional stability, vacuum compatibility, adhere substrates with widely different CTE, and provide protection against corrosion. Toughened products exhibit extraordinary resistance to vibration, shock, impact, high pressure, fatigue, stress, and wear. It is absolutely necessary that centrifuges are balanced correctly at all times for operator safety and to prevent device damage.
The market for industrial centrifuges includes: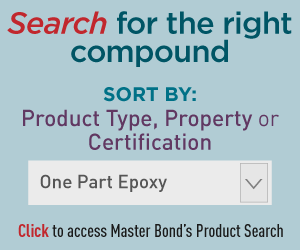 Food industry
Chemical industry
Pharmaceutical industry
Beverage industry
Textile industry
Mining industry
Wastewater treatment plants
Pulp and paper industry
Power industry
Oil and petroleum industry
Biofuel industry
Batch or continuous processing are deployed by different companies to fulfill vital production expectations and objectives. Additionally, our compounds can play an important role in the fabrication of centrifuges for research laboratories. Some of the most common types are:
Refrigerated benchtop centrifuges
Clinical benchtops
Microcentrifuges
Vacuum centrifuges
High-speed centrifuges
Ultracentrifuges
Applications for these extraordinary devices are wide ranging. They comprise biology, microbiology, biochemistry, diagnostics, genomics, proteomics, cellonomics, and nanotechnology. The advanced capabilities of this equipment have made them indispensible for hospitals, pharmaceutical/biotechnology companies, and academic/research institutions.