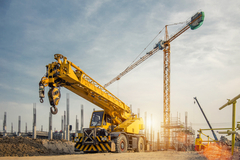 Leading custom machinery manufacturing corporations rely on special Master Bond adhesive, sealant, coating formulations to meet unique application specific requirements. Over 45 years of technical expertise has enabled Master Bond to deliver state-of-the-art solution to fulfill customer objectives. Working in close collaboration with research, development, testing, design, process, manufacturing engineers from prospective clients has empowered Master Bond to employ our extensive mixing capabilities to produce liquid, paste, solid compositions to attain the desired end-use properties. These products have proven successful in optimizing the assembly process while complying with challenging, stringent standards and governmental regulations. This includes UL 94V for flame retardancy, NASA low outgassing specifications, UL 1203 for Explosion Proof and Dust Ignition Proof Electrical Equipment for Use in Hazardous Locations, USP Class VI for biocompatibility.
Using custom machinery can be a smart investment. Some of the most significant benefits range from increased productivity, improved quality, reduction in part rejection rate, easy maintenance, eliminate bottlenecks, enhanced safety, more timely delivery speeds, raise energy efficiency, lowering maintenance costs, tighter tolerances and higher volume. This has led to superior revenue, profitability and more satisfied customers.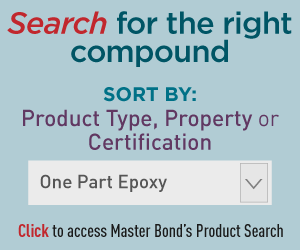 Master Bond adhesive systems have made major contributions in helping achieve these results. They have often been approved for many demanding assignments because of their outstanding physical characteristics. Select durable, long lasting grades protect against erosion, chemical attack, abrasion, wear, vibration, impact, shock, thermal shock, high/low temperature exposure. Other pertinent properties of these epoxy, silicone, urethane modified hybrids, UV/visible curing systems are fast cures, gap filling, low stress, thermal/electrical conductivity and low CTE. Most important, these compounds provide exceptional adhesion between similar/dissimilar substrates such as composites, flexible materials, quartz, gallium arsenide, titanium, steel, aluminum, magnesium, tungsten, nickel, and polycarbonates. In order to enhance and upgrade custom machinery, Master Bond has provided highly customized specialty solutions tailored to meeting specific needs. We are also working vigorously in boosting thermal stability, making progress in augmenting toughness, curtailing shrinkage, modifying electrical/thermal conductivity, escalating tack speeds.
From testing, assembly, inspection, closing machines to motion, automatic controls, packaging systems, conveyors, material handling equipment, presses, lifting devices, crushers, robots, vision systems Master Bond has been instrumental in helping create custom innovative machines. This equipment has made key contributions in the following industries:
Automotive
Energy
Pharmaceutical
Telecommunication
Rail
Machine tool
Electronics
Food processing
Military
Medical devices
Sporting goods-golf
Filter
Construction
Aerospace
They have played an essential role in aiding manufacturers to meet existing and upcoming regulations for fuel efficiency/reducing CO2 emissions and thereby reducing carbon footprint. Also these materials have been vital in lean manufacturing methods and even the smallest amounts of these compounds can be dispensed precisely, quickly with little to no waste.