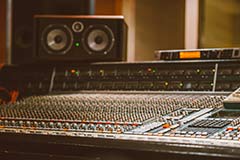 Master Bond offers a wide variety of adhesives, sealants, coatings, potting/encapsulation compounds which are capable of being used for the assembly of audio and video devices. These products consist of epoxies, silicones, cyanoacrylates, and UV curable systems. Our chemists produce unique formulations that provide innovative solutions to operational challenges. High quality liquid/paste compositions are engineered to deliver excellent adhesion between surfaces with different coefficients of expansion/contraction, resistance to moisture, humidity, thermal stability, and low shrinkage upon curing. They bond/seal joints simultaneously, join different shapes and thicknesses, are custom built to be dispensed manually or automatically, and enable reliable, consistent, as well as repeatable performance. Electrically insulative, electrically conductive, thermally conductive compounds are designed for specific requirements.
Some examples of audio and video equipment applications are:
Car stereos
Amplifiers
Video cameras
Digital signage
Microphones
Home stereos
Headsets

Audio controllers
Digital audio workstation (DAW)
Televisions
Public address systems
DJ equipment
Auto theft alarms
Speakers
Monitors
Video processors
Mixing consoles
Portable audio recorders
Video players
Video streaming server
Such equipment is frequently utilized in:
Conferences for business
Command and control centers
Military processes
Entertainment such as musical concerts, sporting events
Healthcare
Exhibitions
Film production
Museums
Governments
The global market for audio and video equipment is exceedingly competitive. Single component, no mix UV curable compositions cure in seconds and will greatly accelerate productivity without compromising functionality. Specialty compounds are available in dual cure grades. This allows them to be thermally cured at temperatures such as 180 F (~ 80 C) in "shadowed out" areas. Additionally, Master Bond cyanoacrylate adhesives can fixture parts in seconds and will adhere to opaque surfaces without mixing or heat. Special formulas minimize the possibility of blooming/frosting, have low odor, exhibit superior peel strength, and adhere well to rigid/flexible surfaces.
Cyanoacrylate adhesives cure optically clear. Epoxies, silicones, and UV/visible light curing bonding agents have been developed with the capability of polymerizing in a wide range of colors. This important characteristic has enhanced their ability to create an aesthetically pleasing device.