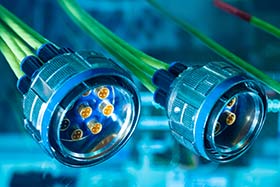 Medical connectors and cable assemblies meet rigorous technical specifications. They are able to benefit from using high quality Master Bond adhesives, sealants, as well as potting/encapsulation compounds. These durable, dependable compositions possess excellent thermal, mechanical, and electrical properties. Custom formulations are specially designed to consistently address a broad range of critical application needs for diverse healthcare equipment including but not limited to:
CT scanners
Ventilators
Ultrasounds
MRI machines
Defibrillators
Electrocardiograms
Heart-lung machines

Electrosurgical devices
Patient monitoring systems
Exoskeletons
Diagnostic devices
Respirators
Wearable devices
Master Bond's unique compositions can enhance the safety of both patients and medical personnel such as physicians, surgeons, nurses, radiologists, as well as technicians. Most importantly, they are able to improve reliability and prevent malfunctions. As medical devices have become smaller and lighter weight this has given impetus for novel opportunities for connectivity and portability. Master Bond is constantly innovating to help such end users.
Master Bond has earned a well-deserved reputation for the technical expertise needed in providing valuable solutions for manufacturers of medical connectors and cable assemblies. Master Bond's specialty compounds have the potential to improve the effectiveness, efficiency, and capability of standard as well as custom interconnections. Long lasting compounds will withstand repeated autoclaving, EtO, STERRAD®, STERIS, gamma radiation and chemical sterilants. Many of these adhesive formulations are used to bond dissimilar substrates such as PEEK, silicone, stainless steel etc. They provide excellent sealing capability against water, abrasion, and chemicals. Some compounds have outstanding dimensional stability and are serviceable over a wide temperature range. Grades that comply with ISO 10993-5 cytotoxicity standards and USP Class VI biocompatibility requirements are available for use.
Products can be deployed on circular (plastic and metal) and modular/rectangular configurations. Many of Master Bond's medical grade compositions are RoHS and REACH complaint. Master Bond's color-coded coatings could be used on connectors to prevent inaccurate mating and equipment damage. Particularly noteworthy is the desirability of superior electrical insulation characteristics of many Master Bond products, which are capable of being used for medical connector and cable assembly purposes.