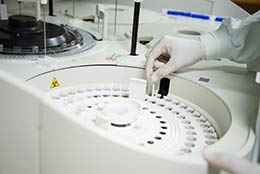 Microbiologists working in university laboratories, hospitals, research institutions, and industrial companies conduct experiments on microorganisms. These sophisticated instruments need specialty adhesives, sealants, and coatings. Master Bond provides a wide range of highly specialized epoxies, silicones, and UV curable compounds, which are capable of being employed in the assembly of such instruments. These instruments have made valuable contributions in observing, examining, investigating, analyzing, exploring, and understanding bacteria, viruses, fungi, algae, protozoa, prions, as well as eukaryotes. By acquiring this knowledge microbiologists determine how microbes effect human, plant, and animal life. Significant technological advances have been made in both pure and applied research. Some examples are as follows:
Pure microbiology:
Bacteriology
Mycology
Protozoology
Parasitology
Immunology
Virology
Nematology
Microbial genetics
Microbial ecology
Cellular microbiology
Astro microbiology
Applied microbiology:
Agriculture microbiology
Soil microbiology
Industrial microbiology
Veterinary microbiology
Pharmaceutical microbiology
Food microbiology
Water microbiology
Microbial microbiology
From improving drugs, controlling the spread of disease, developing genetically engineered crops or biofuels, checking for contamination in food or water, monitoring environmental health, producing specialized enzymes, enabling efficient plant growth, increasing crop yields, cleaning up pollution and using microbes to treat industrial waste, microbiology is pivotal in improving the quality of life.
Master Bond offers a broad portfolio of polymeric compositions that are able to ensure top performance for these most valuable instruments. Select grades feature exceptional shear/peel strength, as well as resistance to extreme temperatures, chemical attack, vibration, shock, and thermal cycling. Particularly noteworthy are systems that are biocompatible, flame retardant, meet NASA low outgassing requirements, withstand 85°C/85% humidity testing and are protective against mildew/mold/fungus or biological growth per MIL-STD-810G. Electrically conductive, thermally conductive, and electrically insulative compounds are available for specific applications. Master Bond products contain no solvents, have minimal shrinkage upon cure, adhere to wide gaps or tight clearances and are employed on different configurations. Formulations are meticulously developed to satisfy stringent quality control standards and can be purchased in special packaging to maximize productivity and reliability.
Types of Instruments in Microbiology That Utilize Master Bond Products
Autoclaves
Centrifuges
Microbiological incubators
Thermal cycler
Microscopes
Vacuum pumps
Deep freezers
Electronic analytic balance
Hot air ovens
Spectrophotometers
Water distiller
Shaking water bath
pH meter
Magnetic stirrer
Drying oven
Refrigerators
Uninterrupted power supplies