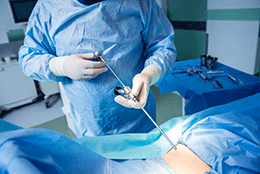 Leading manufacturers of non-invasive and minimally invasive medical devices depend on specialty Master Bond adhesive, sealant, and coating formulations, not only while designing, but also while assembling their devices. Custom formulated medical grade systems are available for multiple assembly applications. They consist of epoxy, silicone, cyanoacrylates, and UV curable compounds. These versatile compositions meet USP Class VI requirements for biocompatibility and/or ISO 10993-5 requirements for non-cytotoxicity. Most significantly many grades are designed to be resistant to repeated steam autoclave cycles, ethylene oxide (EtO), gamma radiation and chemical sterilants such as hydrogen peroxide, peracetic acid, Cidex®, and Sterrad®. Certain products have been developed to withstand multiple cycles of sterilization. Additionally, they protect against detergents, disinfectants, bleaches, antimicrobial cleaning agents, and isopropyl alcohol.
High quality liquid/paste systems have been produced to enhance device performance, safety, optimize processing, efficiency, precision, accuracy, durability and reliability. They offer engineers design flexibility, join similar/dissimilar substrates including stainless steel, titanium, aluminum, ABS, PMMA, nylon, PEEK, polycarbonate, polyethylene, polyurethane, nitinol, silicones, and glass. Different compositions maintain their structural integrity when exposed to tensile, shear, peel compressive and thermo-mechanical stresses. These systems cure at room temperature or when subjected to heat, UV light or moisture. Products can be formulated to bond and seal simultaneously, and/or fill gaps. Typically, they contain no solvents, are thermally stable and are easily dispensed automatically or manually.
Non-invasive medical devices do not enter the body. Master Bond medical grade adhesives can be formulated in the fabrication of the following types of non-invasive medical devices:
Infrared thermometers
Hearing aids
Stethoscopes
Blood pressure monitors
Blood oxygen monitors
External cardiac pacemakers
Defibrillators
ECGs
CT scans
Holter monitors
MRIs
Master Bond adhesives can also be utilized in the construction of minimally invasive medical devices. Some notable examples are:
Therapeutic catheters
Bronchoscopes
Endoscopes
Hysteroscopes
Laparoscopes
Duodenoscopes
Laryngoscopes
Sigmoidoscopes
Arthroscopes
Thoracoscopes
Neuroendoscopes
Balloon inflation devices
Tubular dilators
Delivery and guide catheters
Trocars
Surgical scopes
Cutting instruments
Electrocautery instruments
The preference for minimally invasive medical procedures has grown considerably because:
Smaller incisions
Lower risk of infection
Less scarring
Shorter hospital stays
Reduced trauma to the body
Accelerated recovery time
Higher accuracy rate
Fewer incisions
Minimally invasive medical devices are commonly employed for:
Abdominal surgery
Gynecology
Urology
Pediatrics
Cardiac surgery
Neurosurgery
Orthopedic surgery
Thoracic surgery
Cosmetic surgery
Esophagus and lung surgery
Esophagus
Large intestine
Pelvis and ureter
Recent technological advances and innovations have enabled manufacturers to build miniaturized devices for an assortment of procedures. This has had a major impact in achieving better patient outcomes. As minimally invasive surgical techniques continue to proliferate, Master Bond has taken the lead in rendering assistance in providing our unmatched technical expertise to create solutions to complex challenges. Our thermal management materials, conformal coatings, underfills, optical adhesives, stress absorbing systems, EMI/RFI shielding coatings and potting compounds can prove to be extremely valuable in these efforts. This encompasses the deployment of Master Bond products to boost the capability and potential use of cameras, mechanical, electronic components, fiber optics, sensors, eyepieces, lenses, light transmitting systems, controls, tubing, visual displays for these devices.