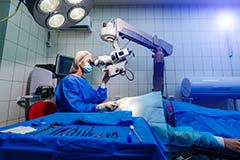 A wide variety of unique Master Bond adhesive formulations play a vital role in the integration of transmissive and reflective optical components into commercial photonic products. These compounds consist of epoxies, silicones, UV/visible light curing systems, and urethane modified epoxies. They are designed to meet specific application parameters and performance requirements. Our compositions can be used for high, medium, low volume production and exhibit superior bond strength to different varieties of glass, ceramic, metal, and most plastics such as:
Polymethyl methacrylate (PMMA)
Polycarbonate (PC)
Polystyrene
Cyclic olefin polymer (COP)
Polyvinyl chloride (PVC)
Amorphous copolyester (PETG)
Polyethylene terephthalate (PET)
Polyether ether ketone (PEEK)
Plastics are often preferred over glass in optical systems because they offer lighter weight, low temperature processing, flexible configuration possibilities, and reduced cost and safety considerations. Glass has proven advantageous because of its ability to withstand chemicals, elevated temperatures, thermal cycling, and resistance to scratching. Multiple sizes, shapes, materials have been successfully deployed in optical assembly operations utilizing different types of Master Bond products.
In collaboration with industry leading manufacturers, Master Bond has been in the forefront in making valuable contributions in improving the capabilities, affordability, accuracy, consistency, reliability, speed, efficiency of optical systems and subsystems. Some essential optical components in this endeavor are:
Lenses
Mirrors
Polarizers
Optical filters
Fiber optics
Light pipes and waveguides
Beam splitters
Prisms
Diffraction gratings
Windows and diffusers
These optical components can be utilized for:
Security/surveillance
Consumer imaging
Medical imaging
Communication systems
Borescopes
Unmanned aerial vehicles
Night vision systems
Telescopes
Cameras
Periscopes
Microscopes
Lasers
Inspection systems
Autonomous driving
Barcode scanning
Sporting equipment
Test equipment
Metrology
Optical sensors
These optical components are of paramount importance to the following industries: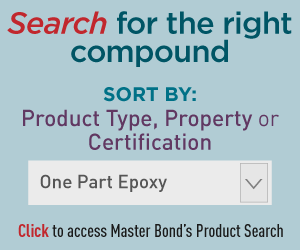 Automotive
Semiconductor
Aerospace and defense
Entertainment
Life science and medical
Consumer electronics
Photonics
Electronic devices
Commercial space
Particularly noteworthy is the use of single component, solvent free, high strength UV/visible light curing systems. These no-mix, ecologically friendly, low shrinkage solutions offer excellent optical clarity, and optimize cure speed for optical and fiber optic assembly applications. They are frequently employed for precise positioning, fixturing, bonding of lenses/prisms, and excel in ensuring critical optical alignments are flawless. Specific Master Bond grades have outstanding durability under hostile environmental conditions. Medical grades are biocompatible, meet USP Class VI & ISO 10993-5 cytotoxicity standards and protect units against different sterilization methods. Systems have also been developed that are NASA low outgassing certified, pass 1,000 hours of 85C/85% RH testing, feature high glass transition temperatures, low coefficient of thermal expansion and display extraordinary dimensional stability. Flexibilized bonding agents withstand flexing and vibrations stresses.
Low viscosity UV/visible light curing materials have superb flow and magnificent wetting properties. Additionally, Master Bond nanosilica filled, dual cure epoxy based systems will cross link in shadowed out areas at temperatures as low as 80C. These cationic curing products when post cured have a Tg of 135-140°C, enhanced resistance to abrasion and many chemicals. Electrical insulation and light transmission characteristics are impressive.