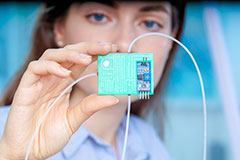 Master Bond supplies custom adhesives, sealants, coatings and encapsulants that can be utilized to assemble different types of biosensors. These include:
Electrochemical biosensors
Optical biosensors
Piezoelectric biosensors
Thermal biosensors
Resonant biosensors
Master Bond provides key technical assistance to help solve design, development, packaging, and fabrication challenges. These analytical devices are currently employed in the following fields:
Point of care and home diagnostics
Food processing equipment
Security equipment
Pharmaceutical devices
Chemical equipment
Agricultural tools
Biodefense equipment
Environmental assessment
Veterinary equipment
Mining tools
Our liquid/paste products consist of electrically conductive/nonconductive epoxy and silicone formulations. They are blended meticulously to satisfy the most stringent quality control standards. Unique Master Bond compositions can be used to enhance durability, stability, reproducibility, reliability, accuracy, sensitivity and specificity for biosensors utilized in multiple applications. They encompass:
Food quality monitoring
Ecological pollution control
Disease detection
Process control in manufacturing
Scientific research
Tracking physical exercise
Toxin detection
Pathogen discovery
Life science research
Drug discovery
Medical diagnosis
Use in prosthetic devices
Soil quality monitoring
Water quality monitoring
Ozone measurement
Forensics
Fermentation analysis and control
Plant biology
Biosensors are dependent on:
Bio-receptors (enzymes, antibodies, microorganisms, tissues, cell receptors)
Transducers
Electronic circuit (signal conditioning unit, processor, display)
Master Bond products are engineered to be tailor-made and can withstand harsh environmental conditions. Specialty compounds feature chemical inertness, heat dissipative characteristics, toughness, resistance to fatigue, vibration, impact, shock, temperature fluctuations, sterilants, and abrasion. Medical biosensors can incorporate Master Bond USP Class VI biocompatible adhesive and/or ISO 10993-5 non-cytotoxic compounds. Master Bond structural adhesive systems exhibit high peel and shear strength properties and are recommended for bonding similar/dissimilar surfaces. They are especially effective in lightweighting, miniaturization of these devices. Additionally, select grades feature low outgassing, fill gaps, have low coefficients of thermal expansion, protect against corrosion and select compounds are even flame retardant. They also are ROHS approved, meet 85C/85% RH damp heat storage testing and support MIL-STD-810G for mildew/mold/fungi or biological growth.
Compounds can be designed to accelerate through-put speed, quicken results and improve the performance of innovative biosensors. Master Bond is conducting research on special nanofilled formulas that require no mixing to simplify mass production and productivity with UV light cure technology. Overcoming present deficiencies is a main objective to fill the unlimited potential of these devices.